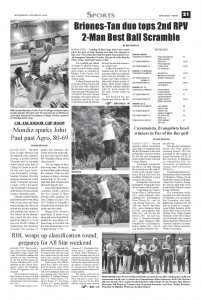 Panabo City -The classification round of the Relampagos Basketball League ended with a pair of explosive matches that resulted to a close 110-108 win by the Fiscals/PNP against the DavNor Defenders and a 78-56 drubbing by the Nippon Paintmasters against the struggling PDEA Drugmasters over the weekend.
The tournament would now take a break to give way to its first All Star Weekend which will be held in Panabo City on November 8-9, 2019
Ten foreign players composed of NBA G League and ABA players under the banner of Coach 3A Sportscenter will showcase their talents in the two-day event which will certainly rock the basketball loving City of Panabo.
High flying and athletic guard Roy Clayter will spearhead the foreign squad which is expected to wow the crowd with his breathtaking dunks and eye popping plays. He will be joined by 6'2" Anthony Winningham, 6'6" Jaelen Brown, 6'3" Jaevon Brown, 6'3" De Wayne Charles, 6'3" Jamaal Mitchell, 6'3" Landen Curry, 6'7" Austin Johnson, 6'4" Christopher Richardson and 6'2" Zjateek Conyers. Eluid "Eloy" Poligrates, a certified showman who was just named the 2019 PBA Foundation Cup MVP earlier this month, will beef up the squad which will go up against a selection of players coming from DavNor and neighboring places reinforced by foreign players.
The visitors will arrive in Panabo City on November 8. They will grace a series of activities lined up by the RBL officials starting with courtesy calls to Mayor Jose Relampagos of Panabo City and Gov. Edwin Jubahib of Davao Del Norte. They will also have a meet and greet with the basketball fans of Panabo on the same day.
They will conduct a basketball clinic at the Panabo gymnasium on November 9 in the morning where some 200 kids from ages 8 to 15 will be treated to a whole morning of fun and learnings about basketball for free. All participants will also receive certificates. In the afternoon, the RBL all stars of Bracket A in the ongoing RBL Board Member's Cup will go up against the leading stats makers of Bracket B. A slam dunk competition will then follow before the much anticipated game between the visitors against the reinforced DavNor selection.
The RBL Board Member's Cup was founded by Davao Del Norte Board Member Atty. Janris Jay "Jigs" Relampagos and PAO Panabo District Head Atty. Arvin Laguindam, with Marcel "Jek" Melendres as Commissioner, John Michael Demain as Technical Committee Head, and Jun Dionglay as event and graphic designer, in coordination with the City Mayor's Office of Panabo City.
RBL Board Member's Cup
Quarterfinals Pairings
(1) KD* vs (4) PDEA
(1) Nippon* vs (4) DavNor
(2) CMO vs (3) HOJ
(2) RFV vs (3) Fiscals PNP
* Twice to beat