Davao City – Title-contenders University of Mindanao-Main Wildcats and Jose Maria Colleges Kings outplayed their respective foes to remain unbeaten, Saturday (October 26) in the ongoing elimination round of the 2019 Collegiate Sponsors League (CSL)-Escandor Cup basketball tournament played at the Davao City Recreation Center (Almendras gym).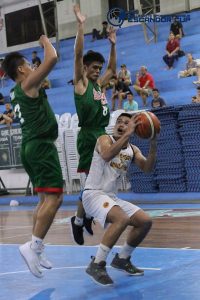 UM-Main Wildcats needed only five extra minutes to dispose a tough Davao Merchant Marine Academy-Angel-K Kakanin Mariners, 82-72 for its second win anchored by Karlo Quidlat's 15 points, eight rebounds, one assist and one steal making him the SPC-Mandarin Player of the Game.
Despite trailing most in the fourth canto due to team foul trouble, Enzo Nitorreda's wards came up big in the final ticks when they trail, 67-69. Quidlat's coast-to-coast lay-up as time expired sent the match-up to the overtime period at 69-all as DMMA failed to make "duty" foul with them only having two team fouls in the final quarter.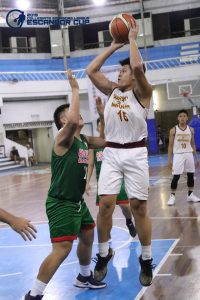 Quidlat also scored the next two baskets in the overtime period that had them the lead, 73-69 and never looked back granting the Mariners its second setback and winning the league's first overtime match-up.
Jose Maria Colleges Kings, on the other hand, also notch its third victory at the expense of Brokenshire College, 88-71 with John Rashid Herbaina leading the way with 16 points and seven rebounds while Cor Jesu College of Digos City spanked San Pedro College, 69-43 for its second win led by Vincent Cenajon's game-high 32 points and four rebounds.
St. John Paul II College of Davao finally entered the win column in two tries after beating MATS College of Technology Navigators, 73-60 with Kim Joseph Mundiz scoring 17 points and four rebound that also went with two assists and seven steals.
Jose Maria Colleges and Cor Jesu College of Digos are playing as of presstime (October 28) facing Holy Cross of Sasa and Davao Merchant Marine Academy, respectively.
Also playing are Rizal Memorial Colleges and University of Mindanao Penaplata and Agro Industrial Foundation next to St. John Paul II.
The games which are under the supervision of the SBP-XI chapter is a qualifying round for the Philippine Collegiate Champions League (PCCL) wherein the champion team earns a slot in the Regional Finals.
Games today – October 29 (Davao City Recreation Center)
1 p.m. – Brokenshire College vs. RMC
2:30 p.m. – HC Sasa vs. UM Penaplata
4 p.m. – MATS vs. DMMA
5:30 p.m. – HCDC vs. St. John Paul II