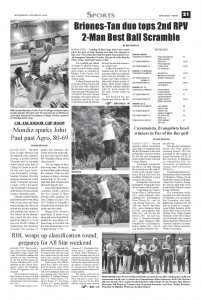 Davao City – Leaning on their long drives and steady putts, the pair of Addy Briones and Jing Tan emerged as this year's Two-Man Best Ball Scramble tournament overall champion, Saturday (October 26) played at the Rancho Palos Verdes Golf and Country Club.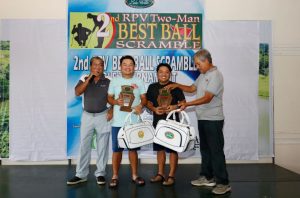 The youthful pair tallied 47 points to take the tournament's second edition overall gross trophy as awarded by Rancho Palos Verdes Golf and Country Club manager Tommy Inigo.
Trailing Briones and Tan is the pair of Jing Gavino and Karloz Alba who settled for the Division 1 gross champion with 46 points while the pairs of Patrick Tan and Vincent Gumapac (45 points) and Lee Bong Hee and Kim IL Gyu (44 points) wound-up with the first and second team runners-up, respectively.
Ralph Garcia and EJ Casintahan took the Division II team gross title on a countback next to the duo of Randy Cadiogan and Johan Dalmacio after both tallied similar 41 points while Danny Nagayo and Bobby Dakudao finished with 40, good enough for the team second runner-up honors.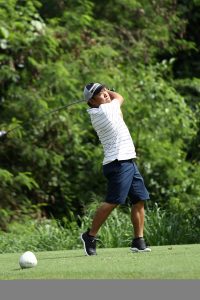 For Division III, Jun Metilla and Marven del Rosario bagged the team gross trophy with 39 points, via countback over Vincent Valdellon and Kim Min Su. The tandem of Charlie Bagara and Jong Magat had 36 points to complete the top three winners.
Philip Hazelwood and Tamio Sakurai shared the limelight by winning the Seniors Division team gross crown while Ben Gaite and Fred Bandong took the team first runner-up on a countback next to Vic Gonzales and Koichi Shoji with same 38 points.
The results:
SENIORS DIVISION
TEAM GROSS CHAMPION PHILIP HAZLEWOOD 42
TAMIO SAKURAI
1ST TEAM RUNNER-UP BEN GAITE 38 CB
FRED BANDONG
2ND TEAM RUNNER-UP KOICHI SHOJI 38 CB
VIC GONZALES
DIVISION 3 ( 14 & ABOVE )
TEAM GROSS CHAMPION JUN METILLA 39 CB
MARVEN DEL ROSARIO
1ST TEAM RUNNER-UP VINCENT VALDELLON 39
KIM MIN SU
2ND TEAM RUNNER-UP CHARLIE BAGARRA 36 CB
JONG MAGAT
DIVISION 2 (9 – 13)
TEAM GROSS CHAMPION RALPH GARCIA 41 CB
EJ CASINTAHAN
1ST TEAM RUNNER-UP RANDY CADIOGAN 41
JOHAN DALMACIO
2ND TEAM RUNNER-UP DANNY NAGAYO 40 CB
BOBBY DAKUDAO
DIVISION 1 (0 – 8)
TEAM GROSS CHAMPION JING GAVINO 46
KARLOZ ALBA
1ST TEAM RUNNER-UP PATRICK TAN 45
VINCENT GUMAPAC
2ND TEAM RUNNER-UP LEE BONG HEE 44
KIM IL GYU
TEAM OVER-ALL GROSS ADDY BRIONES 47
JING TAN