Davao City – CR7 Food Truck and RMC Solido lived up to billing as crown favorites after sporting separate wins at the start of the 16th Acosta Cup Ladies Football tournament played Sunday (October 27) at the UP Mindanao Sports Complex grounds.
CR7 Food Truck outplayed Sikat Alab FC, 2-0 while RMC Solido bested University of the Philippines FC, 5-1 to sports first wins on opening day.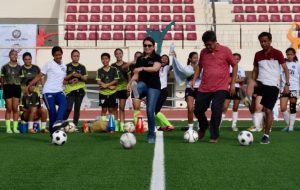 "It's our role to maintain the quality and to make it higher when it comes to our games and be an inspiration for the grassroots and developing players here in Davao" said Mariz Magdolot, one of the scorers for the CR7 Food Truck.
Councilor Mabel Sunga-Acosta along with UP Mindanao Department of Human Kinetics Chair Erwin Protacio, Davao-South Regional Football Association (DRFA) Representative Edgar Te, and FIFA Women's Assistant Referee Ms. Merlo Albano welcomed the participating teams highlighting the traditional ceremonial kick-off.
They also shared their respective messages expressing their support not only to the event but also to the advocacy of promoting and developing the sport of football among women and soccer enthusiasts in Davao City, and providing a venue for them to express and practice their passion for the sport.
The 16th Acosta Cup is in partnership with the City Mayor's Office, University of the Philippines Mindanao and Davao-South Regional Football Association (DRFA), and with the immense support of Norminring Motorbikes, St. John Paul College of Davao, Vibrant Helicopters Agricultural Corporation, Southern Tourist Inn and Kudos Trucking, Medvil Farms Inc.
The next match is on November 2, 2019 at Tionko Football Grounds, Quimpo Blvd. between Dolores Football Club vs D'Davao Survivors (D'DS) at 1:30 pm and CR7 Food truck vs UP Mindanao FT at 3 pm.