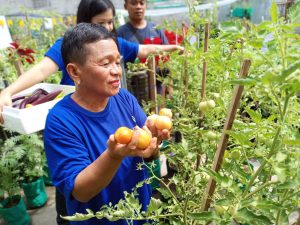 For retired teacher Herminia Posadas, learning never stops.
The 64-year-old educator turned farmer-entrepreneur welcomes life lessons through experiences with her home garden in Barangay Angliongto.
She is proud to say that her 50 sqm backyard of greens is producing food for her family. She is also able to sell homegrown seedlings and crops on the side, making good business every season.
"I want to learn more about how I can do this better," she said in vernacular.
Her passion for gardening also shows her interest to share her knowledge to others, as evident in regular participation in barangay seminars.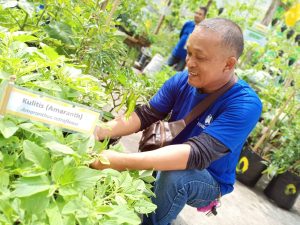 The past 12 weeks were not any different for Posadas. She was busy learning and gardening on weekends through a training series by the SM Foundation and its partners.
She is one of the 136 participants of this year's Kabalikat sa Kabuhayan (KSK) – Rural and Urban Farmers Training Program.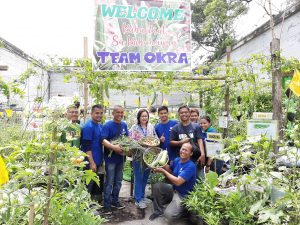 This is a project by The SM Foundation Inc., Harbest Agribusiness Corporation and Macondray Philippines, Department of Agriculture, Department of Social Welfare and Development, the City Government of Davao, SM Supermalls, SM Markets and BDO Foundation.
The Davao project run took place in the Davao Food Terminal Complex in Toril.
At the core of the program is a vision to empower teachers, small scale farmers, DSWD 4Ps beneficiaries, and senior citizens through building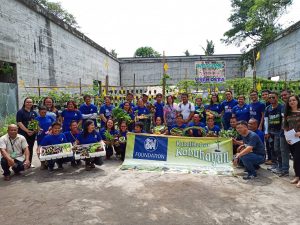 capacity on agro-eco system analyses, financial literacy, and sustainability. All these visualize participants to become successful farmer-entrepreneurs.
Participants are also hands on with farming in urban settings and with engagements that reinforced values based on Henry Sy Sr.'s 14 life principles.
The three to four month, season-long, technical and hands-on training on
high value crops has an average of 100 participants per site. It has developed more than 19,722 small farmers into self-sufficient families, earning their living from the vegetables and the fruits they produce from their lands. Several of them have indirectly become regular suppliers of SM while majority earn from the local markets they serve.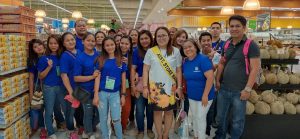 Today, there are a total of 19,722 graduates in 2,761 barangays in 708 municipalities nationwide.
Last October 10, the Davao participants of KSK celebrated as their training concluded. The "Harvest Festival In The City" marked their last session. The activity recognized the success of their trainings, which were manifested on the bountiful harvest from their demo farm.

Posadas celebrated with her colleagues with glee. They harvested most vegetables one can sing in the nursery rhyme Bahay Kubo.
"The best part about the harvest are the lessons we learned and the relationships we grew," she said.