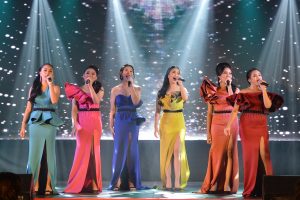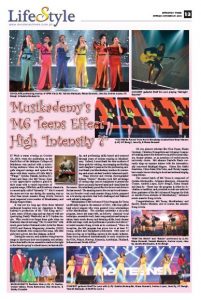 It was a warm evening on October 18, 2019, when the auditorium on the fourth floor of the Malayan Colleges of Mindanao was packed with a music-loving audience when six high school girls stepped onstage and opened the show with their version of Little Mix's "Wings." Quisha, Yannah, Andrea, KC, Riana and Jana—the M6 Teens—kept a very appreciative audience glued to their seats with a varied repertoire of popular songs, OPM hits, and Broadway classics in a concert aptly called "Intensity 7." But it seemed the more nervous one during the opening was no other than music maestro Bong Aviola, Davao's most respected voice teacher of Musikademy and Himig Singers fame.
It was not too long ago when these talented millennial beauties were my daughters in Musikademy's production of the "The King and I." Later, some of them sang and tap danced with me (portraying Daddy Warbucks) as Li'l Orphan Annie. Who would ever forget these girls when we fearlessly danced and sang "The Coconut Nut" with much gusto before National Artist Artist for Music (2019) and Ramon Magsaysay Awardee (2019) Ryan Cayabyab, who composed the song. My little girls have grown into fine dalagas, indeed!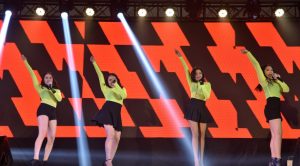 During the concert, each member was given two songs to showcase their musicianship and artistry. More than half a dozen ensemble numbers brought to the fore the group's cohesiveness, technical ability, and
performing skills honed and nurtured through years of serious training in Musikademy. Indeed, I must thank the dear mothers of these girls for valuing, encouraging and fueling each daughter's passion for the performing arts. And thank you Musikademy teachers for nurturing each music student's artistic talent and spirit.
Stage director and veteran choreographer Edison "Bimbo" Morales took full advantage of cutting edge concert equipment to present the show as a multi-layered aural and visual feast for the senses. He relentlessly paced the two-hour event down to the last second. The amazing music director and vocal instructor, my favorite vocal coach maestro Bong Aviola, prepared an over-arcing repertoire that both challenged and flattered each scholar's strengths.
"Musikademy's M6 Advanced Voice Program for Teens unofficially began in the summer of 2011, with four gifted high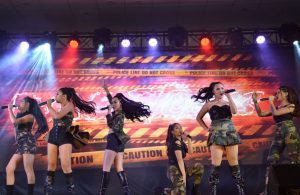 school singers who were granted voice scholarships at the Musikademy. The scholars undertake a six-point program, hence the name M6, as follows: classical vocal technique, ensemble work, basic song analysis and interpretation, basic music theory and listening skills, basic theater skills and stage craft, and performance practice and ethics," revealed maestro Bong Aviola as he continued, "Since its inception, the M6
program has given rise to at least 27 young, skilled and disciplined performers with some of them moving on to building careers in the music industry. Some have performed internationally in such countries as the USA, France, Norway, Romania, Azerbaijan, Thailand, Indonesia and South Africa."
Oh yes, pioneer scholars like Nica Tupas, Shaira Opsimar, Christine Evangelista and Alyanna Ocampo are making names for themselves as professional singers, theater artistes, or as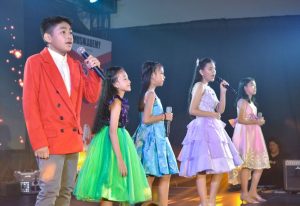 members of world-renown university choirs. M6 alumna Danielle Fanlo currently sings as soprano trainee with the internationally renowned Madrigal Singers. Others like Gabbi Sombilon, Chloe Palar, Ella Velez, and Christy Lagapa have made waves winning in local and national singing competitions.
The current batch of M6 Teens is composed of Quisha Modequillo, Julianna Maniquis, Alessandra Cosare, Andrea Lopez, Kyle Bengil, Riana Guanit and Jana Sy. "Entry into the program is either by invitation or audition, and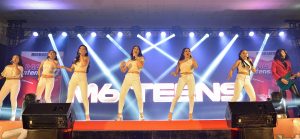 potential recruits are selected from graduates of the M4 Advanced Program for kids or enrolled teen students of Musikademy," informed music maestro Bong Aviola.
Congratulations, M6 Teens, Musikademy and faculty, Bimbo Morales, and of course, the maestro Bong Aviola.