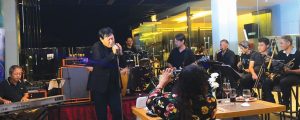 With MT. Apo in the background, the sun bid adieu in glorious pink, blue, and orange, the classic sounds of vintage jazz came alive with Dave Brubeck's "Take Five" as only the band, ALTERED REALITY, can render.
Guests from the European chamber of commerce, the diplomatic corps (China, Malaysia, Japan, Indonesia, Taiwan and others), the Davao chamber of commerce were treated with Malaysian-Chinese appetizers from the Blue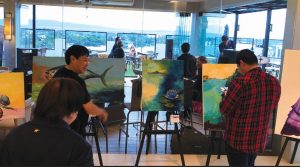 Lotus Hotel's signature restaurant, the LAUT SEAFOOD PALACE.
The View at the Blue Lotus Hotel, Davao's newest four star hotel gives a breathtaking view of Samal Island and Mt. Apo and the city light scenes along Quimpo Boulevard.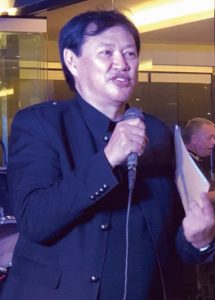 On exhibit are the painting and sculpture of the Tabula Rasa Art Group (Brando Cedeño, Daryl Descallar & Dinky Munda) and guest artists Ega Carreon and Rolando Pino-on, head of the GROUP OF ASPIRING MINDANAO ARTISTS (GAMA). This exhibit will run until NOV 15. Every Friday and Saturday, "THE VIEW" on the top floor will feature live sound from musicians, like ALTERED REALITY and other groups. What a lovely way to spend a sunset moment!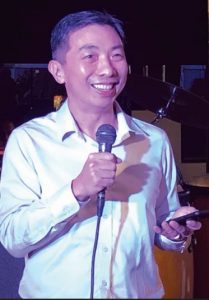 Blue Lotus Hotel is located at Quimpo Boulevard, Ecoland, Brgy. 76-A Bucana, Davao City. For inquiries contact: (082)333-3333 Email: reservation1@bluelotushotel.com
Photos left to right: The Altered Reality Jazz Band giving a number. The art exhibit of Tabula Rasa on display at The View, Blue Lotus Hotel.
DAVAO ART SHOWS & EVENTS
1. OCT 24-NOV 15. Tabula Rasa (Brando Cedeño, Daryl Descallar, Dinky Munda)
with guest-artists: Ega Carreon & Rolando Pino-on. BLUE LOTUS HOTEL,
The View @ 7TH FLR, Quimpo Blvd. "SUNSET JAZZ & ART" with Altered Reality Band.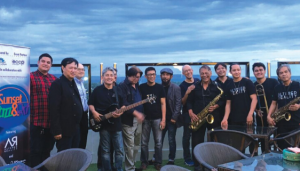 2. ARNEL VILLEGAS: SOLO @ Abreeza on-going. Pen&Ink.
3. Art Centrale: GROUP OF ASPIRING MINDANAO ARTISTS (GAMA)
group exhibit @ Felcris, Quimpo BLVD.
4. BAI HINANG group exhibit @ Waterfront-Insular Hotel.
5. DATU BAGO & CAFE; DVO City Senior High Schoo Special Program for the Arts
Torres St., Davao City
6. MORNINGLIGHT GALLERY. Small works and art supplies
Quirino Ave., Davao City
7. ART PORTAL. Young contemporary artists
Legaspi Suites, Legaspi St. Davao City
8. PIGURAS: "The Silent Witness" collaborative mural
Ateneo, Roxas BLVD
9. BINTANA ART GALERY- Alex Alagon, J.C. Gonzales and others. NCCC-Victoria Plaza, J.P. Laurel
10. ART SUMMIT. 9 NOV @ "SANTUARYO" Trinidad Hills, Ma-a. A planning meeting to build an ART INDUSTRY — a creative economy where artists can create art works as a full-time livelihood.