It has been a memorable run for the students of the Institute of International Culinary and Hospitality Entrepreneurship (ICHEF) – Davao City to the region's biggest and most prestigious food competition, the Davao Culinary Cup 2019 held last October 7 to 9 at The Annex Events Center, SM City Davao.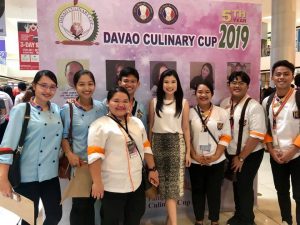 The Davao Culinary Cup, powered by the Philippine Culinary Cup organized by the LTB Philippines Chefs Association, together with the Pastry Alliance of the Philippines and PEPTarsus, Inc., is the prestigious culinary competition in Davao featuring culinary artistry, creativity, and passion of over two hundred fifty participants from different schools and professional establishments all over the region. This year's theme
was Who'sooking?: Chef & Apprentices Culinary Competition," signifying that professional chefs and apprentices alike compete with each other at the same time.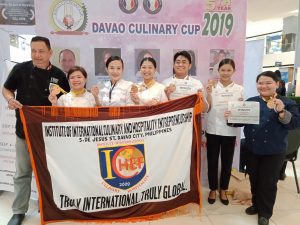 ICHEF participated in the following events: Young Chef's Challenge, Dream Team Challenge, Tuna Challenge, Pasta Challenge, Creative Breakfast Challenge and Fantasy Davao Desserts.
Eighteen medals- fourteen bronzes, one silver and three golds were garnered in various events: Young Chef's Challenge: Jade Ira Cuaresma and Jordan Setoza – Bronze Medal; Jemar Anne Cofreros and George Stephen Ferolin – Bronze Medal; Fatima Bitte and Karl Initan – Gold Medal.
Dream Team Challenge: Earl Renan Panes, Divine Jumalon and Renzo Luis Lopez – Bronze Medal; Jiessa Methyl Mae Lumactod, Princess Therese Leron and Vince Kevin Tenorio – Bronze Medal.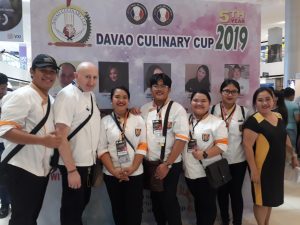 Tuna Challenge: Gretchen Adcan – Silver, and Francis Carl Anthony Amato – Bronze Medal. Pasta Challenge: Shairene Canonigo – Bronze Medal. Creative Breakfast Challenge: Chrismalyn Villa – Bronze Medal, and Krizandrea de Vera – Bronze Medal.
Fantasy Davao Desserts: Claryll Remon – Gold Medal.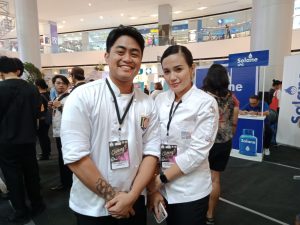 A successful run indeed, thanks to the support of the Joji Ilagan International Schools community, particularly culinary chef instructors Chef Clinton Gregorio, ASEAN Trainer for Food Production, Chef RJ Custodio – National Master Trainer for Food Production and Chef Stephen Pollard, together with ICHEF faculty, staff and alumni.