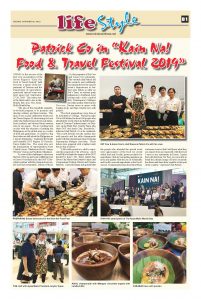 Owing to the success of the first ever presentation of the Davao Region's "Kain Na! Food & Travel Festival" held last year, a repeat of the Department of Tourism and the Department of Agriculture-sponsored special event was held again last September 27-29, 2019. The venue was at the latest mall to rise in the Manila Bay area, The Ayala Malls Manila Bay.\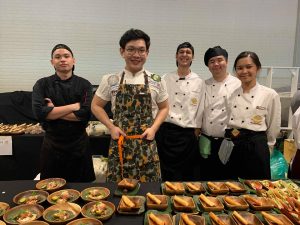 "The aim of this hopefully annually-to-be-held program is to promote and develop culinary and farm tourism. This time, it was a good celebration which saw the Davao Region XI showcasing its local chefs who featured innovative local dishes, local products and showed farm tourism sites in our region. We are working hard on this with the objective of putting the Philippines on the global map as a center of food and gastronomy. It could be a big facet when
we talk about the Philippines as a tourist destination," explained the bright and beautiful DOT Region XI Director, Tanya Rabat-Tan. The event also saw the participation of representatives from Central Luzon, Calabarzon, Bicol, Caraga, Western Visayas and Northern Mindanao.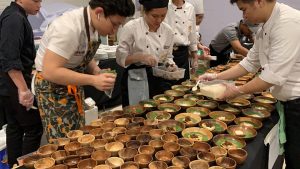 "In view of this challenge to showcase the best of Davao and to put a different twist to Davao's best delicacies, the DOT-XI decided to partner with the young and successful chef and restaurateur, Darence Patrick Co, the proprietor of Fat Cow and Asian Cow restaurants. The versatile chef Patrick did his research; and confidently recommended for the special event's degustacion to feature such dishes as adlai (or Job's Tears, an ancient grain indigenous to Southeast Asia) champorado with candied dilis; Puentespina's Malagos chocolate praline with Duyaya Durian; Durian turon at quezo with Langka syrup; and Tapa Carabao taco with pomelo.
"The food preparations were done at St. Scholastica's College. We had to make 500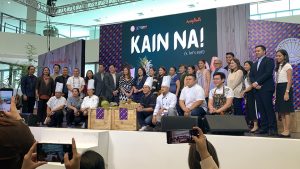 to 600 dishes for about 300 people who attended the event which included Department of Tourism Undersecretary Art Boncato, Ayala Malls Pres. Jenylle Tupas plus other DOT and Ayala Corp. Executives," informed chef Patrick Co as he continued, "The crowd favorite was the carabao taco with pomelo and the adlai champorado made with the international award winning Puentespina Malagos chocolate. These dishes were prepared with a lighter touch but are big on flavor."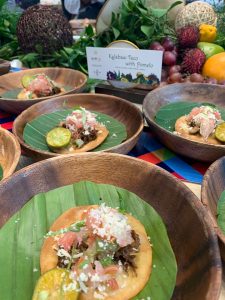 "I felt really proud as a chef to represent the progressive City of Davao. And I would like to thank the support of the DOT headed by Reg'l. Dir. Tanya Rabat-Tan, Davao City Mayor Sara Duterte-Carpio, and Congressmen Pulong Duterte and Dendee Bautista. I am truly happy and grateful that the people who attended the special event were appreciative of the food we served which had only locally grown products for ingredients.
I did my best putting emphasis on taste and quality with the use of sustainable and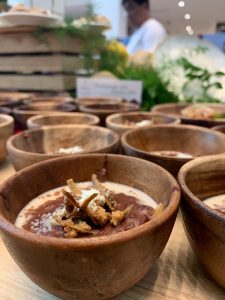 locally-sourced ingredients in the food I served. I continuously learn about what Pinoy customers want so that I will know what they can expect from me especially with the food I serve in my restaurants in Davao. I guess that with the Kain Na! Fest, we were able to break the culinary image of Davao as merely the durian and ihaw-ihaw republic in this part of the country," expressed chef Patrick.