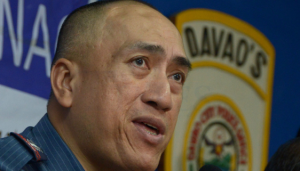 Outgoing city police director, Col. Alexander Tagum, yesterday said that making Davao City as one of the country's safest areas remains one of his greatest accomplishments.
Speaking in yesterday's AFP-PNP press briefing held at The Royal Mandaya Hotel, Tagum said, "I was just very fortunate, first, because I have a very supportive City Mayor Sara Duterte and understanding local officials, and team Davao (Task Force Davao, 10th Infantry Division, Task Force Haribon, Regional Mobile Force Battalion), and other security units."
Tagum conceptualized the Oplan Iron City, which is an integrated police-military integrated patrol system, which formed the basis of the strategy that plants police personnel on almost streets and corners.
Before his assumption as city director, the DCPO was composed only of 1,500 personnel, which he said was not enough considering the large area to be covered.
"So, after hearing my recommendation, immediately within a week's time, she approved the recruitment and funding for the Oplan Iron City program, which is the activation of more than 1,000 police auxiliary who now work together with policemen as they are deployed in static posts and crime prone areas," he added.
The DCPO also benefitted from the donated vehicles that allowed them to enhance their mobility.
The Oplan Kalinaw, a program implemented in support of the Martial Law directive of President Rodrigo Duterte, also contributed to making Davao City safe. The DCPO is in constant communication with the Task Force Davao and Central 911 so their policies and actions are aligned.
Oplan Kalinaw also has a social services component, which include a free medical check up, free medicines, and vitamins, as well as awareness campaigns vs. criminality and terrorism.
The outgoing director will assume the post of executive secretary for PNP Acting Director General Archie Gamboa. He will be replaced by Col. Kirby Kraft, the former Highway Patrol Group of the Police Regional Office III.
Meanwhile, Tagum shared some great characteristics on becoming a great leader.
"As a leader, they should have the heart to serve," he said.
"If you're selfless, they can feel that you love them, and that you should always be by their side before anything happens. And whatever will happen, at the end of the day, they should know that you have them as their leader," he said.
"Leaders should create more leaders, not more followers," Tagum added.
Tagum will turn over his command to Kraft tomorrow at the DCPO parade grounds around 2 p.m.
Mayor Sara Duterte will be the guest of honor and speaker during the turnover ceremony.