The conflict surrounding the roads in the Floirendo-run banana farms in Sto. Tomas and Braulio Dujali, Davao del Norte was finally resolved during a meeting between the parties that the Mindanao Development Authority (MinDA) facilitated Tuesday night.
Based on the memorandum of agreement that the parties signed, a soft copy was obtained by TIMES, the biosecurity facilities put in place on the roads will not be demolished, but that public access to the roads will also be allowed without requiring any person or vehicle to secure a gate pass.
The agreement also spelled out the creation of a joint monitoring committee composed of two each from the parties–the provincial government of Davao del Norte, the Tagum Agricultural Development Co. Inc., and the Bureau of Corrections (Bucor)–to ensure the compliance of the agreement.
Bucor signed a joint venture agreement with the company for the banana production in the farms.
"Proper security protocols shall be observed by the three parties the details of which shall be discussed by the Joint Monitoring Committee," it added.
The same agreement also settled the cases filed by both sides. Earlier, the Regional Trial Court issued a temporary restraining order barring the provincial government from demolishing the biosecurity facilities put in place by the company to prevent the spread of Fusarium Wilt, better known as Panama disease, a soil-borne disease that renders banana farms useless.
Those who signed the agreement were Gov. Edwin I. Jubahib representing the provincial government, Zeaus Apollo C. Vadil representing the company, and Director General Gerald Q. Bantag representing the BuCor.
Among those who witnessed the signing was former Davao del Norte representative Antonio Ernesto F. Lagdameo, president of the Industrial Division of the Anflocor Group of Companies. Mr. Lagdameo's uncle, former representative Antonio R. Floirendo has been at odds with his erstwhile friend, Rep. Pantaleon D. Alvarez whose chief of staff was Jubahib.
In his social media post, Secretary Emmanuel F. Piñol, MinDA chair, said the "agreement was a result of two weeks of intense negotiations initiated by MinDA following a stand-off (on) October 9 which nearly resulted in a bloodshed."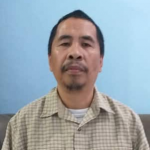 Managing Editor at Mindanao Times