More than P3.6 million worth of shabu were confiscated by the Task Force Davao from three checkpoints from January to October this year.
Maj. Ronel Legarde, the Task Force Davao spokesperson, said they siezed 242.92 grams of illegal drugs by different operatives in both the Sirawan, Toril and Licanan, Lasang checkpoints.
On Monday, an alleged drug courier was caught with 69.79 grams of shabu with a street value of P1,116, 640 at the Task Force Davao Sirawan checkpoint at 1:40 p.m. The suspect was identified as
Aiveen Rey Alimpoos, 37, a resident of Km. 12, Balinao Site, Barangay Sasa, was apprehended by the elements of TF Davao and PNP teams.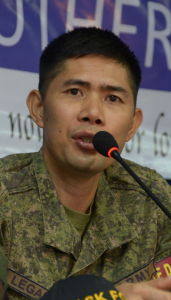 Taken from his possession were 17 small sachets of metamphitamine hydrochloride or known as "shabu."
The apprehended person was on board a black Rouser with plate no. 6723 traveling from Digos City to Davao City when he was inspected at the motorcycle inspection area.
One CAA II on duty noticed the suspect behaving strangely and dropped something on the ground.
The suspect initially resisted arrest but was eventually subdued by the authorities.
Col. Consolito Yecla, the Task Force Davao commander, said, "We encourage the public to be the 'eyes and ears' of your community by reporting suspicious persons and activities in their areas, any relevant information will be of great help for our security forces."
The confiscated items were immediately turned over to the Toril Police Station and while a case was filed against the suspect for violation of sections 5 and 11 of RA 9165.
Mayor Sara Duterte, in her message to the commander of TF Davao, expressed her appreciation for a job well done by the troops, along with the Philippine National Police.
Yecla also lauded the teamwork of personnel involved in the major bust. "I commend the cooperation extended by our team, especially the TF Davao troops, for their professional and efficient checkpoint operations," he said. "Rest assured that despite our focus on our mandate to address terrorism, we will not lose sight on the drugs scourge and will actively support the PDEA in its endeavors."