They call themselves an "endangered tribe" with most of their youth embracing the modern/urban lifestyle of the lowlanders
"There's little of them left who can still speak our tribe's language or practice our age old traditions. We need to do something fast, otherwise we will just be another footnote in history books," said Punguo Marcelino Betil, a Klata chieftain who also corrected the misuse of the word "datu" as it refers to the Muslim tribes.
Last Sunday, October 20, members of the Klata tribe, with the assistance of investors Preslyn Ramos, Camille Cinchez, Jenny Loyola and her brother in law, true blooded Klata Lemuel Betil, officially opened Tribu Klata Takkanna, a Klata eatery and livehood center located in Purok 1, Barangay Tamayong in Calinan. Most Klata communities can be found in the districts of Tugbok, Baguio, Marilog and Calinan.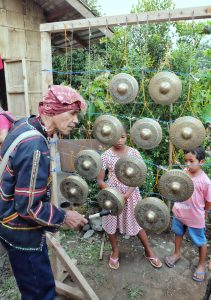 "More than just a community enterprise, it is one of the ways wherein we can help preserve our dying culture – by showcasing our humble cuisine," said Lemuel Betil.
After a thanksgiving service, Betil introduced the tribal fares one by one to the guests.
"We have 'lunlut', or nilutlut in other tribes, which is basically shrimp or native chicken cooked with grated coconut, tomatoes, onions and lemongrass inside a bamboo pole. 'Pinit' is corn soup with shrimp and herbs, while 'Ludong' is taro leaves (gabi) cooked with coconut milk. We only cook them with fresh ingredients, no additives or artificial seasoning," he said.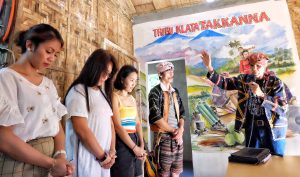 For dessert, they served puto balanghoy (cassava), an aromatic Klata coffee (a mix of corn coffee and coffee beans), and a basket of fruits in season, which included lanzones, rambutan and pineapple, all freshly picked from their backyard. Everything was prepared by members of the community.
We noticed that there was no pork in their dishes.
"We seldom use pork, from the meat of wild boar that we used to hunt in the wild. In one year, we traditionally only have one hunting season, and that is when they are not pregnant or mating – in order to keep a healthy boar population," Betil explained.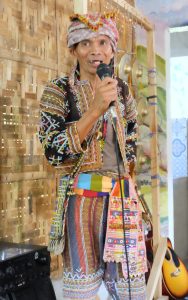 For the Klata, hunting is normally referred to catching shrimps and eels in rivers, which are unfortunately now very rare since rivers are now used in irrigation, diverted or polluted due to commercial and residential developments, and poisoned by pesticides due large scale farming.
As a livelihood and learning center, the young members of the tribe are taught to do beadworks for their accessories that they also sell and use as welcome leis to the Tribu Klata Takkana guests. The Klata are also known to be the most skillful in beadworks and sewing among tribes in the region.
"In addition, we also teach them how to speak our local language on Sundays while Pastor Ruben Sayugan instructs them in playing the kulintang," he disclosed.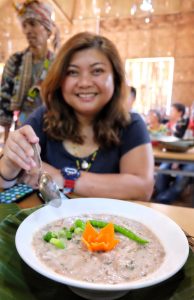 The construction of a "balay sa klata" (tribal house) and "simbahan sa nitibo" (place of worship), all within the compound, are also in the pipeline.
"If we want to succeed, we need to do a holistic approach," Lemuel added.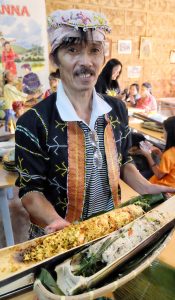 The traditional Klata meals is part of their Tribu Klata Experience package for only PhP400 person. To book a tour to the Tribu Klata Takkana, simply send them a message through their Facebook page (Tribu Klata), email tribuklata@gmail.com, or text/call 09175368549, at least a day in advance. Getting there is 45 minute to an hour drive (depending on traffic) from downtown Davao City