Davao City – Rovers Football Club and Tamasak Panabo Football Club head the list of winners at the close of the 2019 Oktoberfest Football Festival held at the Azuela Cove in Lanang.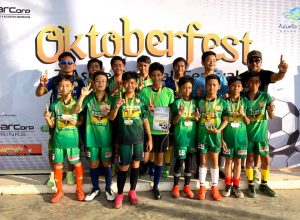 Rovers Football Club scored three titles winning it in the Mixed 11 category, Boys 12 and Boys 13 year-old age group divisions.
Tamasak Panabo Football Club also made their presence felt winning two age group divisions – Mixed 7 and Mixed 8.
Meanwhile, CR7 Food Truck Ladies team took the Women's Open Futsal trophy leaving past RMC Solido, Stonefield FC (Ozamis) and Urios Knights at second, third and fourth places, respectively as Marice Magdolot also brought home with the Most Valuable Player (MVP) trophy for CR7.
The Intangibles Football Club shared the limelight by winning the Men's Open division on top off Solido FC, Southshield FC and Dolores FC with Johnrey Cardama as MVP.
Special designed trophies were given to the winners by Buboy Arieta of the organizing Sparcorp after the games.
The compete results:
Mixed 6 category
Champion – Ateneo de davao
1st runner up – Koronadal FC (A)
2nd runner up – Koronadal FC (B)
3rd runner up – RMC
MVP – Luke Sumadlayon (Ateneo de davao)
Mix 7 category
Champion – Tamasak Panabo
1st runners up – Rovers FC
2nd runners up – RMC
3rd runners up – Koronadal FC
MVP – Love Arguelles (Tamasak Panabo)
Mixed 8 category
Champion – Tamasak Panabo FC
1st runner up – Rovers FC
2nd runner up – Koronadal FC
3rd runner up – New Bataan Ford FC
MVP – Monciello Gabriel Arguelles (Tamasak Panabo)
Mix 9 category
Champion – RMC
1st runners up – Southshield FC
2nd runners up – Rovers FC
3rd runners up – Koronadal FC
MVP – Noah Chavez
Mixed 10 category
Champion – Hyenas FC
1st runner up – NUFC – A (Nabunturan)
2nd runner up – Amigos United FC
3rd runner up – Southshield FC
MVP – Gabby Alar (Hyenas FC)
Mix 11 category
Champion – Rovers FC
1st runners up – RMC
2nd runners up – Koronadal FC
3rd runners up – Davao Hyenas FC
MVP – Marcus Te (Rovers FC)
Boys 12
Champion – Rovers FC
1st runners up – TCPU (Tagum)
2nd runners up – Koronadal FC
3rd runners up – NUFC (Nabunturan)
MVP – Joerby Anito (Rovers FC)
Girls 17 (FUTSAL) category
Champion – Pantukan NHS
1st runner up – Stonefield FC (Ozamis)
2nd runner up – New Bataan Ford FC
3rd runner up – Lady Knights FC
MVP – Jean Templaza (Pantukan NHS)
Boys 13 category
Champion – Rovers FC
1st runners up – Southshield FC
2nd runners up – CPU FC (ComVal)
3rd runners up – NUFC
MVP – Austin Dilodilo (Rovers FC)
Boys 14
Champion – Hyenas FC
1st runners up – TCPU FC (Tagum)
2nd runners up – NUFC (Nabunturan)
3rd runners up – New Bataan FC (ComVal)
MVP – Gian Caserial (Hyenas FC)
Women's Open Futsal
Champion – CR7 food truck ladies team
1st runners up – RMC Solido
2nd runners up – Stonefield FC (Ozamis)
3rd runners up – Urios Knights
MVP – Marice Magdolot (CR7)
Men's Open
Champion – Intangibles FC
1st runners up – Solido FC
2nd runners up – Southshield FC
3rd runners up – Dolores FC
MVP – Johnrey Cardama