Panabo City – The KD Green Lions used a late game spurt to edge out the Mandirigma 89-81 and secured a twice to beat advantage going into the quarterfinals in the resumption of the 2019 Relampagos Basketball League (RBL), October 19 at the Salvacion gym.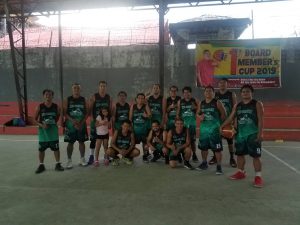 Former LPU Pirate Tirso Lesmoras lead the KD Green Lions' fiery attack in the fourth quarter pouring six straight points at crunchtime. He finished with 18 points four rebounds, five assists and three steals.
The KD Green Lions' frontliners also contributed with Ryan Gallego, Jess Sicat, and Steven Nabatar adding a total of 14 combined points and 18 rebounds.
Mandirigma main man Bitod Dawal scored only seven points with only two baskets in the fourth as the Green Lions executed their defensive game plan against him to perfection.
In the first match, the HOJ Leaguers survived a desperate PDEA Drugbusters surge, 110-101 for their first win
The HOJ Leaguers were just too much for the winless Drugbusters anchored by Gary Aripudin's 17 points and three rebounds while Lloyd Cagape backed him up with two points, eight assists and three steals.
Moymitz Encarnacion topscored for the Drugbusters with a game-high 31 points to go with his nine rebounds on a losing effort backed by Mike Padilla's nearly double-double with nine points, nine assists and six steals.
Games will resume on October 26 before the RBL League takes a break for its All-Star weekend where a team composed of NBA G League and American Basketball Association (ABA) players lock horns with a Davao del Norte selection beefed up by a couple of foreign imports which is dubbed as a historic event here.
The one day event will also highlight a free basketball clinic to be conducted by the G League and ABA players before the visiting foreign players showcase their talents in a slam dunk contest and their match-up against the DavNor selection.
The RBL Board Member's Cup was founded by Davao Del Norte Board Member Atty. Janris Jay "Jigs" Relampagos and PAO Panabo District Head Atty. Arvin Laguindam with Marcel "Jek" Melendres as Commissioner, John Michael Demain as Technical Committee Head, and Jun Dionglay as event and graphic designer, in coordination with the City Mayor's Office of Panabo City.
RBL Board Member's Cup Team Standings
Bracket A
KD – 3 0
CMO – 2 1
DnD – 0 2
Fiscals – 0 2
Bracket B
Nippon – 2 0
RFC – 2 1
HOJ – 1 2
PDEA – 0 2