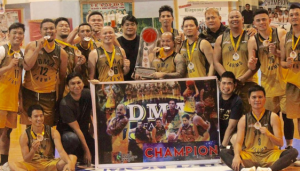 Davao City – Team DMA Farms stole the limelight by winning the 2019 Davao Dribblers Society (DDS) 3rd Conference last October 12 at the expense of J&J Auto Hub, 69-63 at the Montana Gym and Recreation Center.
Jay Castillon and LA Mark Narciso combined for 32 points which anchored the Adrian Abracia-coached DMA Farms to complete a come-from-behind win and Narciso also bringing home the MVP (Most Valuable Player) finals trophy.
Team Bossjersonylog bagged third place next to RPT Dry Goods, 90-76.
DDS Commissioners Manny Noel, Jeff Cuenca and Sherwin Driz awarded the winning teams with their respective trophies and cash prizes after the games.