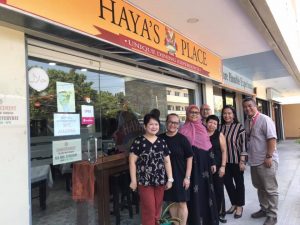 It was a few weeks ago when my foodie friends namely Mae Aviles-Tulfo and Tetet Aviles of the popular Lachi's Restaurant & Pastry Shop; Architects Kiko and Cecile Hidalgo from my UP Diliman student days and my Musikademy episode; and Mariel Estioko, a niece of my beloved departed friend, tita Daisy Estipona-Estioko, decided for us to get together after such a long time of not seeing each other. It's not that easy for us to arrange a schedule when everybody seems to be busy all the time. It was Mae Aviles-Tulfo who took it upon herself to recommend and decide for us to try a different type of cuisine other than what we're used to eating. And naturally, we all agreed to her request for us to dine at Haya's Place for its Tausug cuisine. Haya's Place is located at the Lenma Building, Fuente del Villa Abrille, Tulip Drive, Davao City. That time, I didn't mind crossing a bridge to get to the venue just to see my dear friends and to be updated with the latest happenings in their lives.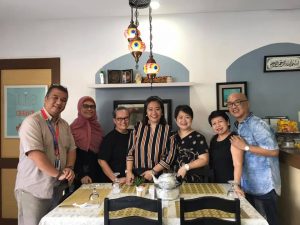 Lucky for us, Madelyn P. Palma, the owner of both Haya's Place and the LenMa Family Inn which are both located in her family's LenMa Building, was present to welcome us that hot noontime. "I'm a Tausug from Jolo, Sulu. It was the lack of good restaurants serving Halal food for Muslims residing in Davao City that my husband and I decided to put up one. I was decided on featuring our Tausug cuisine as well as Malaysian, Middle Eastern and Indian dishes. The name Haya is derived from the word Hayat which means 'life.' It is an Arabic word that means natural or inherent, shyness and a sense of modesty. In Islamic term, it is used in the context of modesty," she said as she added, "Honestly, we were quite surprised during our early months of operation when more Filipino Christians eat here than Muslims. We are happy about it as we are sharing our Muslim Tausug culinary culture right here in Davao."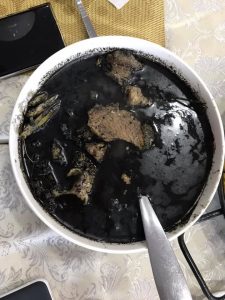 Madelyn P. Palma worked as a nurse in Riyadh, the capital City of Saudi Arabia, for 14 years. It was there where she met her architect husband, Galen J. Palma. They eventually got married, returned home after saving enough money, and now have children who are studying here in Davao City. "It's more peaceful here in Davao City; and it is a more conducive place in raising a family than our hometown in Jolo," revealed nurse Palma who also informed us that she loves to cook especially Tausug cuisine. She learned a lot of Middle Eastern dishes to cook like hummus, falafel, baba ghanoush, shawarma, kofta, kebab, to mention some dishes, during her long stay in Riyadh.
"Tausug cuisine is the cuisine of the Tausug people of the Sulu Archipelago which includes the provinces of Sulu, Basilan, Tawi-Tawi, and the southern tip of the Zamboanga Peninsula and Palawan. Due to its nearness to Malaysia, Tausug cuisine has maintained its Malay origins characterized by the generous use of spices, chili and coconut milk. Tausug cuisine follows the Islamic Halal dietary requirements as a majority of Tausugs are Muslims," lectured nurse Palma, a proud Tausug who I believe is quite experienced and has become quite articulate for interviews.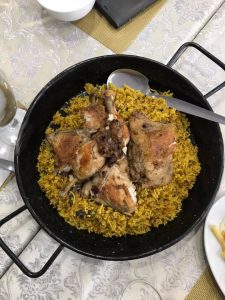 When asked what is the most popular dish her restaurant offers, nurse Palma immediately answered tiyulak itum or black soup. It is beef marinated with burnt coconut, tumeric, ginger, and lemon grass; then sauteed with garlic and onion before it is boiled in water with salt, black pepper and chili pepper. The black soup somewhat tastes like spicy nilagang baka but without the vegetables. It's the burnt coconut which gives the black color of the dish. Nurse Palma informed us that tiyulak itum is usually served during special occasions or important gatherings.
For convenience, we also ordered the kebab platter of beef and chicken kebab which came with grilled veggies, salad, pita bread and Haya's signature sauces. I also included chicken biryani platter which came served with long grained rice cooked in curry; beef rendang; hummus with pita bread; fattoush salad of fresh parsley, cucumber, tomato, lettuce tossed with Arabic spices, lemon and olive oil; and cheesy shawarma fries of French fries topped with chopped onions, tomatoes, chicken and Haya's cheesy sauce. Indeed, everything tasted spicy for me that I drank two cans of Coke Zero with my meal.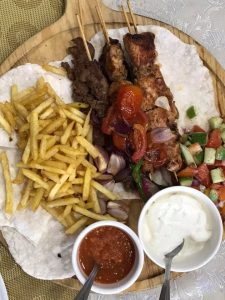 Mae Aviles-Tulfo was happy with Haya's food that she commented, "These are authentic Middle Eastern and Tausug cuisines one can delight themselves in." Mariel Estioko agreed as said she loved everything that Haya's Place served us. "The food is, indeed, different but worth trying. It's an interesting approach to Tausug and Middle Eastern cuisines," opined Cecille Dioquino- Hidalgo with her husband, Kiko, commenting that Haya's food was something truly exotic for him.
As for myself, I really wouldn't mind going back to Haya's Place to try its other interesting dishes for as long as the restaurant doesn't run out of Coke Zero. I should check nurse Palma's LenMa Family Inn next time. "It's an affordable family inn for Muslims visiting Davao with no place to stay in," said nurse Palma in closing.