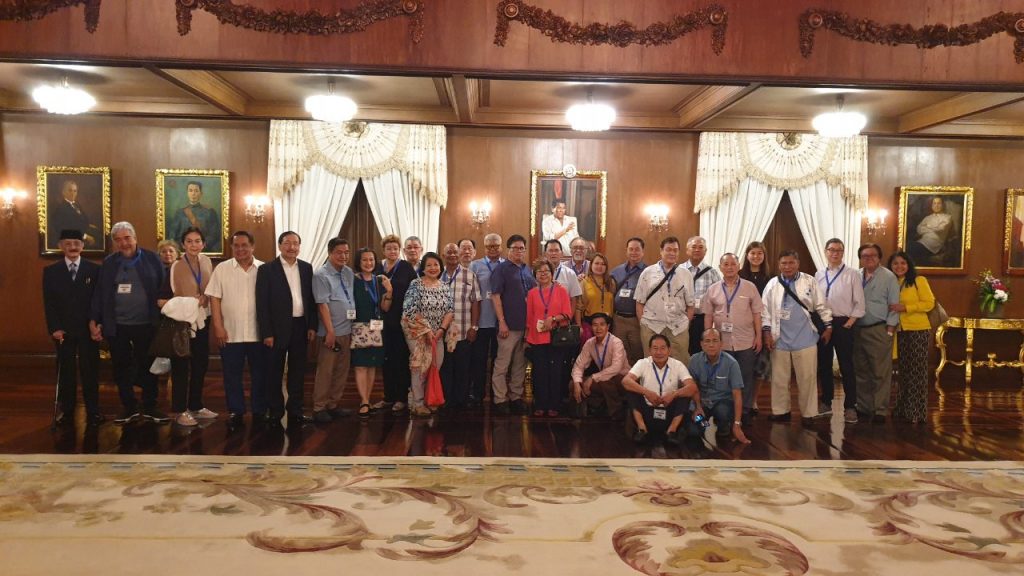 Early this year, we started the idea of setting up another Tagaytay holiday trip in late August. We had it so good the last time in November 2013, just before super typhoon Yolanda devastated the Visayas and Luzon eastern sea boards.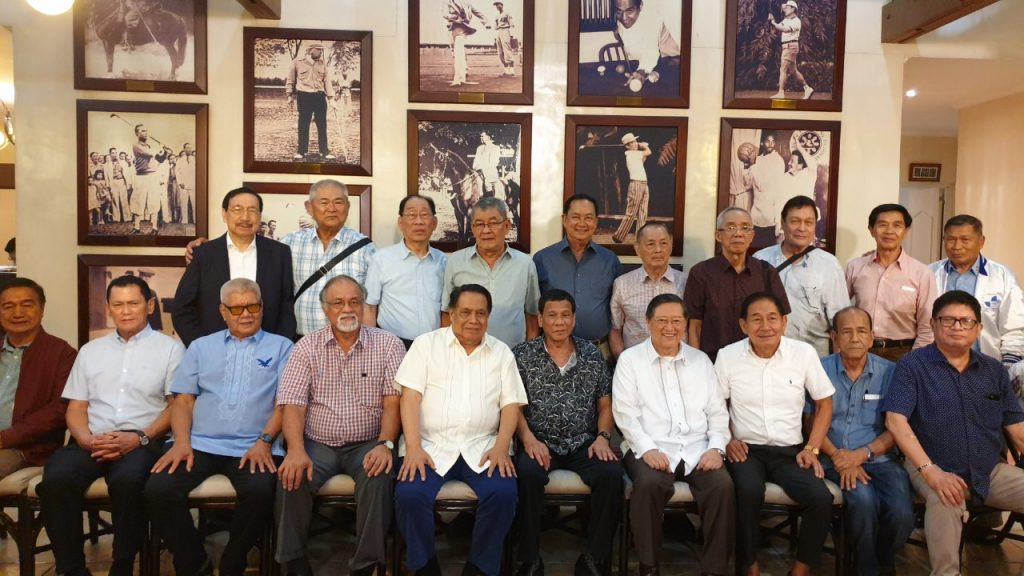 Nonetheless, we savored every moment of fellowship (the banter and unmitigated laughter from recycled jokes for four days) at Gari and Glady Tiongco's elegant 15-room mansion in the highlands. Those shining moments are all behind us now but the memories linger.
This year, revisiting Tagaytay was the only destination for our reunion but this time, lucky breaks conspired to add up two major stop-overs for one journey.
Lumped together was a visit to Malacanang, an event that was realized at the last moment thru Sec. Sonny Dominguez' last minute audacious effort. Paying a courtesy call to our most famous former grade and high school classmate, the 16th President of our Republic, sneaked into our itinerary. Adding more flavor to the trip was a confluence of events, where Gari and classmate King Aguiluz crossed paths in Manila and during a steak dinner in Makati, King intended to invite the Class 61 classmates to his Golden Wedding anniversary celebration on Sept. 28 at Grand Hyatt Hotel in Bonifacio Global City (BGC).
Without a shadow of a doubt, there was a collective "thumbs up" to attend the 50th wedding anniversary of classmate, Ambassador King Aguiluz and his charming wife Cielo, which prompted a resetting of the August Tagaytay trip to Sept. 26-29.
With all these three events magically woven, Davao residents immediately changed course and booked their Tagaytay trip on Sept. 26-29 instead of August 26-29.
Arriving Manila on Sept. 26, about 20 classmates with their gorgeous wives converged and were given a sumptuous welcome lunch by our hosts, Radz and Lilly Garcia at Max's. At 3 p.m., we headed to Malacanang serviced by two vans, courtesy of King Aguiluz. In the museum, we had a one-hour crash course on the history of the American and Spanish colonization periods. Insights and historical events revealed the life and times of Philippine presidents and prominent politicians, which shaped our nation's identity to the world.
An early dinner was set up in Heroes Hall at 6 p.m. and thereafter we lumbered around and marveled at heavily ornamented offices, elegant conference halls, gardens, foyer, glorious paintings, ancient photos of prominent political figures, historical documents, right in the heart of the palace. At 8 p.m., the President summoned us to his residence at Bahay Pagbabago for a coffee break. Like a diligent tour guide, he cordially showed us around his residence and beckoned us to enter the privacy of his bedroom. For over an hour, he expressed and candidly let out his emotions about his sacrifices to serve our people alongside his enormous work load and duties as President of our country.
We broke off at 10:30 p.m. due to his scheduled flight to Davao that night and equally for us, to drive back to the Tagaytay mansion for Gari and Gladys generous offer of bed and breakfast for three nights.
The next day, a Pinoy-style lunch was waiting for us at Bagoong Club in Tagaytay, hosted by King and Cielo, with its building majestically resting on a roadside bluff with a panoramic view of the breath-taking highlands.
On Sept. 28, a mouthwatering buffet lunch at Yakimix in BGC was hosted by Milt Liu and Placido Yu, topped with salmon sashimi and shrimp tempura that preceded the 3 p.m. wedding renewal of vows for King and Cielo at the St. Michael the Archangel Church.
At 5 p.m., we stormed the Grand Hyatt Hotel for the dinner reception, all spruced up with formal attire for men and evening gowns for the ladies. In one grandiose hall, we encountered overflowing wine and liquor and an exquisite serpentine table of appetizers, fruits, hours d'oeuvres, cheese of every shape and color, that stirred up our gustatory senses.
As we proceeded to the grand ballroom, we were stunningly awed by the sweet live music that wafted across the cavernous hall, emanating from famous Manila Philharmonic Orchestra on center stage. Memorable musical scores and themes from great Hollywood movies, Beatles tunes and the much acclaimed and popular old standards, piqued one's appetite as we drilled on the main course of high grade, imported juicy steak and tenderly baked lobster tail. World renowned Lani Misalucha entertained the 500 guests after Piolo Pascual and Richard Poon rendered some love songs. The program highlighted a message from the celebrant, King, and during his message, especially mentioned his Ateneo de Davao Hi School classmates, most who flew in from Davao, who graced the occasion and profusely thanked them for being with him on the significant milestone of his life.
For Class 61 batchmates, stringing up those three gorgeous September episodes will surely be long remembered. To our generous sponsors, classmates, President Rody, Sec. Dominguez, Ambassador King and Cielo Aguiluz, Gari and Gladys Tiongco, Radz and Lilly Garcia, Placido Yu, Milton Liu, and all those who joined our Tagaytay reunion, our sincerest gratitude and appreciation.
See you all on Jan. 24 and 25 for the 2020 Grand Reunion in Davao City.
(by Niel Dalumpines)