Honoring the personalities behind the success of the Davao Medical Society (DMS) in the years of its existence was one of the main events in celebrating Medicine Week. Tributes were given to those who contributed immensely to the medical profession and the community of Davao City.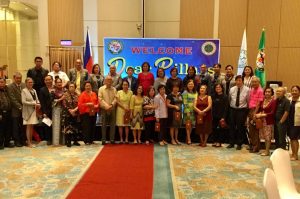 Welcoming the guests was DMS President Dr. Luz P. Acosta-Barrientos.
Physician Pillar Dr. Virginia Montenegro, DMS past president and past governor of Philippine Medical Association (PMA) Southeastern Mindanao, gave an inspirational talk about her many significant and memorable experiences during her term at the dinner held at Marco Polo Davao.
Dr. Alfredo Abundo, Jr., also a DMS past president and past governor of PMA-Southeastern Mindanao, gave an inspirational talk.
Brief messages were delivered by City Councilor Mary Giselle Dilig-Villafuerte, a physician who heads the City Council's Health Committee, and Dr. Annabelle Yumang, the regional director of the Department of Health in Davao.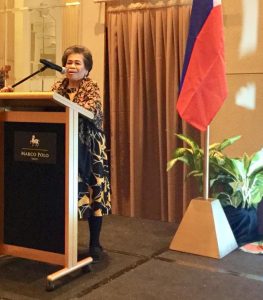 Other highlights of the evening included the toast led by Dr. Jose Beltran, Jr., DMS vice president, a cultural presentation by the Kalumon Performing Ensemble, a product presentation by Mr. Vic Cabatbat, president and owner of HiDok, Inc., a clinic appointment mobile and web app.
Tokens were presented to all the Physician Pillars led by Dr. Luz Acosta-Barrientos, Dr. Francis E. Porticos – DMS secretary, Dr. Marrievien G. Barett – DMS councilor and DMS chair for the 62nd PMA Medicine Week.