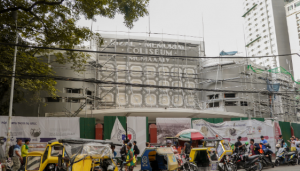 The rehabilitation sports facilities ordered by President Rodrigo Duterte are meant not just for the country's hosting of the 30th Southeast Asian Games but for future tournaments as well.
Philippine Sports Commission (PSC) Chairman William "Butch" Ramirez assured this yesterday, saying that they are looking to open the government sports facilities to various local and international tourneys as well as collegiate leagues like the University Athletic Association of the Philippines (UAAP) and the National Collegiate Athletic Association (NCAA).
Ramirez said the completion of the refurbishing of the Rizal Memorial Sports Complex in Manila, Philsports Sports Complex in Pasig City and Teachers Camp in Baguio City remains on track and would be done on or before November 15.
In fact, some of the facilities would be used for the hosting of the biennial meet, but would still be utilized for the use of other tournaments and leagues in accordance to the instruction of President Duterte to improve the government sports facilities around the country.
"I was instructed by the President to rehabilitate these sports facilities for the benefit of the athletes. These rehabilitation projects are part of his masterplan when he decided to seek the Presidency in 2016," said Ramirez, adding that they can draw additional revenue from commercial leagues and tournaments that will stage their events in government sports facilities.
"We can use the proceeds from the rental to improve the living condition of the athletes like their nutrition, dormitories and allowance."
The Philippine Amusement and Gaming Corporation (PAGCOR), through its Chairman Andrea Domingo and President and Chief Operating Officer Alfredo Lim, was instrumental in funding the rehabilitation of government sports facilities after doling out P845 million.
The design was in accordance to the plan of the National Historical Commission, which ruled that the 92-year-old Rizal Memorial Sports Complex is already a National Historical Landmark and an Important Cultural Property.