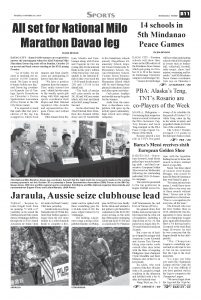 TARLAC – Reymon Jaraula fought back from an opening 73 with a 67 yesterday as he seized the clubhouse lead with Aussie Simon Vitakangas halfway through the ICTSI Central Azucarera de Tarlac Open at Luisita Golf and Country Club here yesterday.
Jaraula rode on a strong backside start of 33 that featured four birdies against a bogey then hit two more birdies in a solid frontside finish to complete a five-under card he spiked with three scrambling pars for a 36-hole total of 140, the same output turned in by Vitakangas,
The hulking Aussie, out to snap a string of forgettable finishes on Philippine Golf Tour Asia, finally hit his stride and wielded a hot putter to put himself in contention in the $100,000 event serving as the sixth leg of the region's emerging circuit put up by ICTSI and co-sanctioned by Pilipinas Golf Tournaments, Inc. and PGA of Taiwan (TPGA).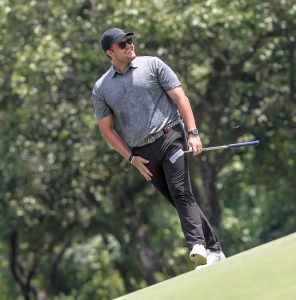 He gunned down four birdies and rescued pars in four times that he went out of regulation, including a chip-in feat on No. 10, that preserved a bogey-free 33-35 round where he used just 26 putts.
But a new set of leaders is tipped to emerge with American Lexus Keoninh and Aussie Tim Stewart toting nine-under cards overall after nine holes with the likes of reigning Philippine Open champion Clyde Mondilla and Brett Munson, also of the US, in hot pursuit.
Ira Alido, who took control of the first 18 holes with a 66, groped in tough condition in the afternoon and hobbled with a fat 41 after his backside start.
Wang Wei-Lun, No. 5 in the current TPGA Order of Merit ranking, also took advantage of an early start and shot a 69 for joint third with Fidel Concepcion, also from Down Under, and Jhonnel Ababa, the winningest player on PGTA with four victories, who hit just one birdie but salvaged five pars to keep a bogey-free 71.
Others who stayed in mix are Kris Etter, who matched par 72 for a 142; Chen Yi-Tong, another ace from the 36-strong Taiwan delegation out to get back at the Filipinos after Tony Lascuña humbled the hosts and a slew of Thailand bets in Nan Pao Open, the third PGTA event in Taiwan this year, last month, who carded a 71 for a 143 in a tie with compatriots Wen Cheng-Hsiang (71) and Tsai Tsung-Yu (72), former Aboitiz Invitational winner Damien Jordan of Australia, and Jay Bayron (73).
But Michael Bibat, who shared the first round lead with Ira Alido and Clyde Mondilla, failed to recover from a disastrous 40 start, marred by a double-bogey on No. 4, and limped with a 76 after a 69. He tumbled to provisional tied for 15th but hopeful of making it to the final 36 holes of the event backed by PLDT Enterprise, Meralco, BDO and PGT Asia official apparel Pin High.
Only the top 50 plus ties after 36 holes from one of the strongest fields ever assembled here will advance to the final two rounds with the likes of former PGTA leg winner Joenard Rates (73-148), multi-titled Elmer Salvador (74-148), Keanu Jahns (74-149) and former Masters titlist Jerson Balasabas (82-153).