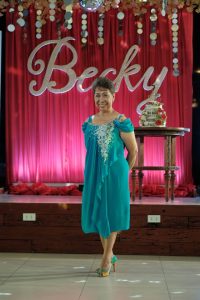 It was, indeed, a hot Saturday night last October 12. Rebecca Ylaya-Laurel, nicknamed Becky, was celebrating the glorious season 8 of Locos Por Tango with her ballroom dancing, hot mamacitas who, naturally, came to attend with their fave dance instructors in suits. The venue was at the ballroom of Men Seng Hotel which is the home of the ballroom dancers' favorite Le Baile. Naturally, mama Becky's dear ballroom amigas wore their most attractive, glittering dance outfits for a truly passionate affair with the Argentine Tango. "I want to make sure that we all keep growing better, despite our advancing age, and celebrate our passion for Tango para siempre," said the glamorous and obviously happy Becky who was attractively dressed in a blue-ink colored dress as she welcomed guests led by German Hon. Consul & Madam Klaus Doring and KBP Director & Mrs.
Hulog, with a beso un fuerte abrazo.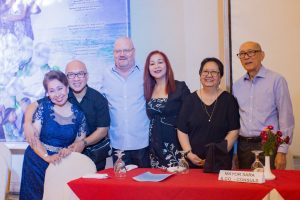 It was on December 1, 2007, that Becky and the daring mamacitas bravely held the first ever Locos por Tango affair at the Recreo in Davao City which has long closed its doors. "All the performers were local ballroom dancers of Davao who partnered with their favourite dance instructors. All of us were beginners then but so eager to learn the seductive magic of Argentine Tango with such a passion," said Becky as she continued, "The second and most unforgettable Locos por Tango was held on October 20, 2009, at the Recreo. That time, we were fortunate to have the celebrated artist, Edna Ledesma, who is highly respected in Philippine dance sports for having been the first Filipina dance artiste to be proclaimed a Blackpool (UK) dance champion. Edna partnered with the late Miguel de la Serna of Davao who distinguished himself as one of the best ballroom dancers the city ever produced. We also had the happy participation of the Argentinian husband-and-wife team of Alvaro and Lucila. The duo's fantastic performance of the various styles of Tango will always be remembered."
By 9:00 p.m. when just about everybody had settled down and eaten their dinner, Becky started the program. Becky, a big fan of the now defunct show "So You Think You Can Dance," was the emcee that evening as she called on all the 10 pairs to parade and assemble before the audience for the Tango showdown.
Michael Dolorosa and Joel Pantojan interpreted an interesting man to man Tango choreography for the opening number of the evening. They were followed by dancers Luz Ocampo & Brix Arcega, Titang Montinola & Marvin White, Tess Bontia & Rem de los Reyes, Gigi Bermejo who sang and danced, Hiromi Amano & Danilo Gagani, Vilma Docena & Joko Fresco, Lina Lim and Edgard Gallo, Caren Rebaja & Michael Doloroso, Judy Berger & Sam Insorio, and Dr. Elen Ong & Joel Pantojan who showed off a dramatic Tango version in beautifully coordinated dance outfits. Dr. Ong and Pantojan's Tango number was the best for me.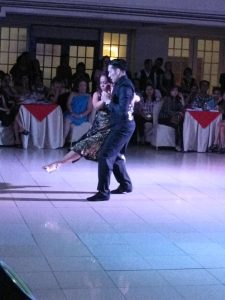 The highlight of the evening was the performance of gorgeous dancing couple, Jang & Jenn Lopez, champions in the prestigious Tango Dance Asian Championship 2017. Yes, they were the first Filipino dancing couple to win in this event.
Yes, keep on dancing for your good health!