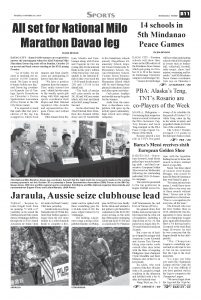 Davao City – Some 10,000 runners are expected to answer the starting gun when the 42nd National Milo Marathon Davao leg reels off on Sunday, October 20 on an out and back course starting at the SM Lanang Premier.
"As of today, we are close to reaching our expected 10,000 runners mark. We hope to reach it timely before race day," said Davao leg coordinator Kenneth Sai of Vantage Sports Promotions on Thursday's Davao Sportswriters Association (DSA) Forum at the SM City Davao Annex.
It is expected to reach that mark after last year's edition of the leg was scrapped in which local runners and from nearby cities are anticipating to have it back this year.
"We have a positive response from the runners. They really missed last year," added Sai who came to the weekly sports gab along with Milo regional sports coordinator Kirk Mojica and Milo National organizer Abie Arandia and representatives Eugene Flores and Leilani Manalac.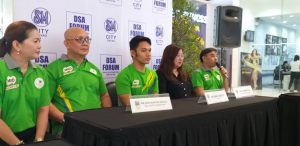 Elite runners from Butuan, Manila and Zamboanga along with Davao and Cagayan de Oro are eyeing slots for the national finals in this year's edition of the Davao leg. One may qualify to the national finals in they ever reach the 1:15:00 mark for the men's 21K and 1:35:00 in the distaff side.
"The bulk of entries will come mostly on the 3K, 5K and 10K race routes which will start and finish at the SM Lanang Premier," Sai said.
On the other hand, the 42nd National Milo Marathon also donated rubber shoes and 20 basketballs to five beneficiary schools namely Magallanes Elementary School, Kapitan Tomas Monteverde Sr. Elementary School, Sta. Ana Elementary School, Vicente Hizon Elementary School and Buhangin Elementary School which will be used during their physical education classes and other sports activities.
Cash prizes, trophies and medals are up for grabs for the winners.
Aside from the marathon, a cheerdance competition will spice up the activity open to elementary, high school and college categories.