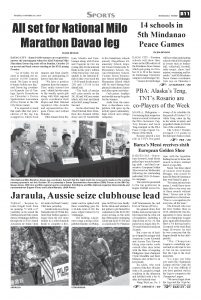 Davao City – Fourteen schools will show their wares in the fifth edition of the Mindanao Peace Games which gets going on October 24 to 28 at the Ateneo de Zamboanga University campus in Zamboanga City.
"Ateneo de Zamboanga will host other participating schools which will compete in events such as basketball, volleyball, football, table tennis, chess, badminton, swimming and karatedo," said 5th Mindanao Peace Games coordinator Noli Ayo on Thursday's Davao Sportswriters Association (DSA) Forum at the SM City Davao Annex.
"We started from just 10 member-schools back in 2015 and eventually we grew to 14 in this year's edition," he added.
Joining host Ateneo de Zamboanga are Xavier University of Cagayan de Oro, Ateneo de Davao University, Ramon Magsaysay Memorial Colleges of General Santos City, Holy Trinity College of General Santos City, Father Saturnino Urios University of Butuan, St. Joseph Institute of Technology of Butuan, University of Southeastern Philippines-Davao, San Pedro College-Davao, Datu Ibrahim Paglas Memorial College-Maguindanao, Mindanao State University-Marawi, La Salle University-Ozamis, Iligan Medical Center College and Mindanao Autonomous College Foundation Incorporated-Basilan.
More the 500 coaches and athletes are seen to join the sporting activities which will also have side events such as the Pop Corn and Movie Night, TED Talk and the Coaches and Athletes Forum.