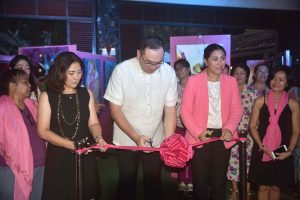 There is a different kind of energy when women come together. There is an innate understanding of one another, a genuine interest in each other's stories and a subtle yet consistent desire to nurture.
This October, 26 members of the women artist group – Bai Hinang exhibited their work with a collective intention to support Breast Cancer Awareness as part of Waterfront Insular Hotel Davao's annual initiative. In fact some artists who participated in the activity were cancer survivors themselves. Pink October is celebrated annually to strengthen advocacy in the fight against breast cancer.
"Bai" is the indigenous word for woman, while "Hinang" is a Davaoeño term which connotes "to create", "to build" or "to work". Put them together and you have a group of women, creators, builders and workers. Known as the first in Davao, the group hopes to speak out to women all over Mindanao in the best language they know how – art.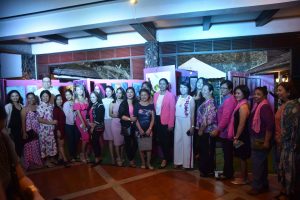 Aside from the diversity of age, these artists also have different painting styles. Some lean towards impressionism which features impasto paint application and discernible brush strokes to capture the play of light on its subject. Others find their strength and preference in realism where skill and attention to details are at the forefront. There are also a few abstractionists in the group who enjoy playing with color, capturing the elusive imagery of emotions.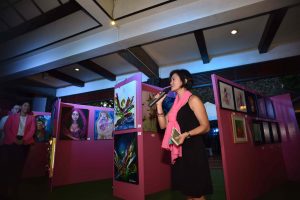 All in all, the BaiHinang group of artists tells a plethora of stories through their work. These stories are bound by one thing in common: the desire to depict beauty. There may be differences in aesthetic standards but all women are instinctively drawn to what is beautiful. Some find beauty in motherhood, others in dance or in the curvature of a woman's body. There are those who also find beauty in the struggles of women and how resilient one can be.
Amanda Echevarria, as an artist, likes to create images that mirror the struggles of women and inspire them to move on despite these struggles. Trixie Borbon, a Breast Cancer survivor herself, shares that the most important thing for her during her battle was the support of her family and that she would like to channel the same kind of support to other women through her work. And, as women, Dadai Joaquin believes that they have a stake in this awareness campaign.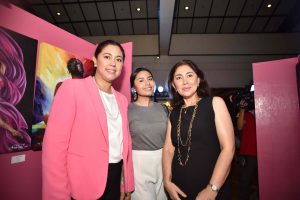 The pink exhibit runs until October 31 at the Hotel Lobby. Part of the proceeds will benefit the Ribbon of Hope Cancer Care Advocacy of the Davao Doctors Hospital and women in local communities who are in need of early detection and proper treatment.
Every year in October, Waterfront Insular Hotel Davao goes pink with "Pink Matters", an initiative to raise both funds and awareness on Breast Cancer.