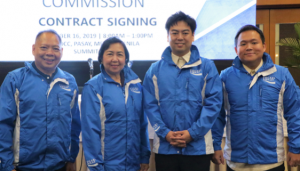 The Philippine Sports Commission (PSC) continues to make every effort to improve its nutrition support to the national team who will go to battle next month when the country opens its doors to the participants of the 30th Southeast Asian Games.
PSC sealed a deal with Otsuka-Solar Philippines Inc., the pharmaceuticals company behind Pocari Sweat, as the official sports drink of the agency at the Philippine International Convention Center in Pasay City.
With the goal of promoting the health of Filipino athletes, the PSC has partnered with the Japanese pharmaceutical company to provide the beverage for our national team.
PSC Commissioner Celia Kiram, representing PSC Chairman William Ramirez, delivered her welcoming remarks praising the initiative taken by Pocari Sweat in the service of Filipino athletes.
" I am really so flattered to welcome you this morning for the signing ceremony of our collaboration with Pocari Sweat. We in the Philippine Sports Commission, on behalf of the Chairman, would like to thank you so much for your trust given to us, for sponsoring our athletes, our coaches, especially for this coming Southeast Asian Games. We do hope that this collaboration will be prolonged for our athletes. And with that, we hope we can also collaborate with you beyond the games," she said.
Mr. Kohei Oyamada, President and Managing Director of Otsuka-Solar Philippines Inc., shared his delight about the partnership and the company's motivation propelling the tie-in with PSC.
"We want the opportunity to collaborate with the PSC for the better health of the Filipino people, not only the athletes, but also people who love sports," he remarked.
Pocari Sweat, an ion drink launched in Japan in 1980, made its way to the Philippines in 2007. The electrolyte beverage formulated to prevent dehydration especially for physically-active individuals is a favorite among sports enthusiasts. PSC Commissioner Kiram has noted the beverage's safety for the athletes, as endorsed by the PHINADO making it the ideal sports drink of the national athletes.
"For most health drinks any medicine had to pass through PHINADO. This was already approved and recommended by them to be used by the athletes without any prohibited components. We in the PSC really would like to partner with other private organizations that can support our athletes because government cannot do it alone," she said.
PHINADO or Philippine National Anti-Doping Organization, is the sole entity responsible for the implementation of anti-doping policies for the Southeast Asian Games. PHINADO Head Dr. Alejandro Pineda also joined the contract signing.
"Thank you for the generosity to support our athletes," he declared.