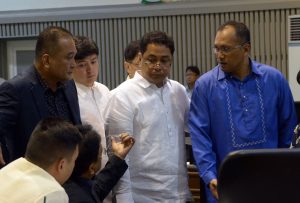 The City Council yesterday passed on first reading the proposed 2020 City Budget amounting to P10.3 billion.
Councilor Danilo Dayanghirang, chair of the Council's Committee on Finance, Ways and Means, and Appropriations, presented to the body the proposed budget that amounts to P10,300,266,343.
In a previous interview, Dayanghirang said he will fast track the committee hearings for each department. He added that the proposed budget may be approved on the second week of November.
Dayanghirang did not give the specifics of the allocations of the budget yet.
Mayor Sara Duterte, in her State of the City Address (SOCA) on Monday, said they are thriving to be independent from the internal revenue allotment (IRA) and increase on the local sources of fund.
In her SOCA, Duterte said in June 2019, the city already saw an 11% increase with P5.5 billion compared to the P4.9 billion in the same period last year on the revenue collection, which is among the major sources of local funds.
The recorded increase in the total collection of taxes, fees, and other charges for calendar year 2018-2019, compared to the collection obtained in the previous years, was due to the implementation of Ordinance No. 0291-17 (the 2017 Revenue Code).
The bulk of the budget, Dayanghirang said, will go to maintenance operating expenditures that may account for about 55% of the budget.
Also, 20%, on Dayanghirang's estimate, may be allotted for annual development fund, and while some funds may be allocated for non-infrastructure and infrastructure development projects.
For 2019, the city operates with a P8.9 billion budget. About P4.9 billion of such is from the IRA and P3.9 billion from local sources.