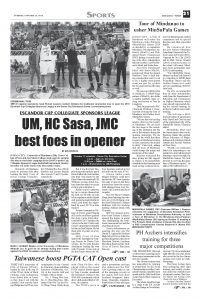 A Tour of Mindanao will usher the Mindanao-Sulu-Palawan (MinSuPala) Games 2020 as decided by co-organizers Mindanao Development Authority (MinDA) and Philippine Sports Commission (PSC) during a second meeting with other stakeholders held on October 12 at The Pinnacle Hotel and Suites here.
Secretary Emmanuel Piñol, who chairs MinDA, reminisced when the annual Marlboro Tour is held during summertime and it used to be a highly-anticipated event not just for cyclists but for sportswriters like him as well.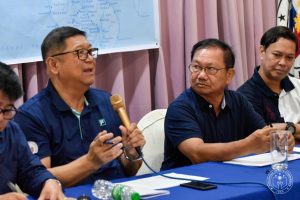 He came up with the idea as Malaysia, a BIMP-Eaga partner of MinDA, also holds a regular multiple stage cycling race known as Tour de Langkawi.
Thus, he proposed to PSC Chairman William I. Ramirez that reviving the Tour of Mindanao will further boost MinSuPala Games.
"We can discover cycling talents, discover the beauty of Mindanao. We can have the last stage or the awarding of the champion and the rest of the winners during the opening ceremonies. We can show to the world that there is peace in Mindanao because cyclists can freely ride around it safely," Piñol said, adding that the Tour of Mindanao could change the image and landscape of the island.
Ramirez welcomed the idea, giving his full support to Games as he immediately scheduled a third meeting next week so they could move forward in finalizing the needed committees and its special function and other important details.
He reminisced how the now defunct Mindanao Friendship Games held in Tubod, Lanao del Norte (2001); Cagayan de Oro City (2002) and in Mati, Davao Oriental (2003) promoted peace in the island with many Mindanao local government units (LGUs) participating.
"Top MinSuPala Games athletes can then look forward to competing in BIMP-Eaga Friendship Games and the Arafura Games as it could serve as a qualifying," the PSC chief said.
He also recommended that all other stakeholders aside from the Department of Education and Commission on Higher Education, which were already represented during the second meeting, be invited as well for next week's meeting.
"We will sign a MOA (memorandum of agreement) with Deped and Ched as part of the organizing body of the MinSuPala Games," Ramirez added.
Meanwhile, Piñol said the Games aims to discover indigenous talents like sprinter Mona Sulaiman of Maguindanao and swimmers Jairula Jaitulla and Parsons Nabiula of Tawi-Tawi.
"Thank you Chairman Butch for responding to our initiative to start talking about Mindanao sports through the MinSuPala Games. We look forward to reviving the glory days of Mindanao sports," he added. PSC MINDANAO