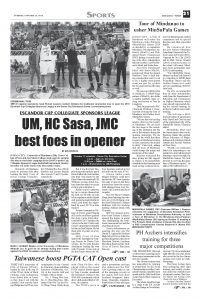 The Philippine National Archery team is gearing up for three major
tournaments in the next two months.
The 16-man archery team has intensified its training in preparation for the Asian Championships and the Continental Olympic Qualifier next month and the 30th South East Asian Games (SEA Games) in December.
The whole squad has been in a camp at the F.R. Sevilla Archery Range in Novaliches, Quezon City since September right after the Asia Cup, which also served as the Sea Games Archery test event, in Clark, Pampanga.
The Pinoy Archers have been undergoing daily rigid training and weekly evaluation under the watchful eyes of national coaches Clint Sayo, Joy Marino and Foreign coach Chong Yap Lee of Malaysia.
Archery's Secretary General Ròsendo Sombrio noted that the athletes continue to improve on their scores as the competitions draw near.
Sombrio said that with the full support of the Philippine Sports Commission, the Philippine Archery Team will have a two week international training camp from November 6-21 in Bangkok Thailand, where the Asian Championships and the Continental Olympic Qualifier are also set to take place on November 22-29.
"It is our duty to support the national athletes. The archery team is also a recipient of the PSC's support as we prepare for the country's hosting of the SEA Games in November to December," PSC Chairman Willam Ramirez said.
The men's recurve team is composed of Luis Gabriel Moreno, Florante Matan, Jason Feliciano, and Carson Hastie while the distaff side is made up of Kareel Meer Hongitan, Pia Elizabeth Bidaure, Gabrielle Monica Bidaure and Phoebe Amistoso.
The men's compound team includes Paul Marton Dela Cruz, Johann Olano, Arnold Rojas and Robert Badiola while Jennifer Chan, Andrea Robles, Rachelle Anne Dela Cruz and Abigail Tindugan make up the women's compound team.
The 30th Sea Games will be held from November 30 to December 11.