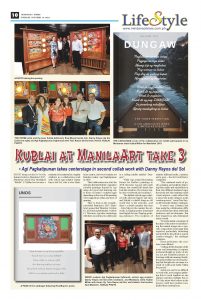 Since being invited to be the featured artist in ManilaArt 2017, Mindanao artists Rey Mudjahid "Kublai" P. Millan has become a mainstay as he returned as a regular exhibitor in a collaborative work with ostrich egg sculptor Danny Rayos del Sol, who is also ManilaArt curator, and wood sculptor art furniture maker Agi Pagkatipunan in 2018.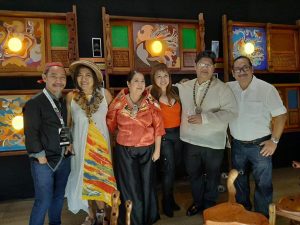 That collaboration was a hit, the artworks that had Kublai's signature colorful paintings framed by Agi using old wood and featuring one to three of Danny's sculpted eggs depending on the size of the painting were snapped up within one hour of opening.
They're back in the recently-concluded ManilaArt 2019. ManilaArt opened last Thursday October 10, 2019 and ended Sunday, October 13. This time, Agi takes centerstage with their second time to collaborate in a selling exhibit entitled "Dungaw".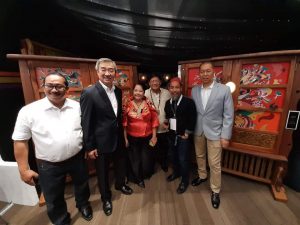 While Agi created fascinating frames for Kublai's paintings in 2018, this time, Agi not only made frames, but created full stands that look like windows. If you know Agi, he does woodwork par excellence.
The lighted ostrich eggs sculpted with intricate figures and lines and Kublai's colorful bring an old world feel to the artworks. And there's a fourth member this time – Riza Muyot who renders the artworks in Tagalog poetry (translated into English for non-Tagalog speaking audience). Two sculptors of entirely different media, a painter, and a poet — the old world feel is completed.
"The combined works of poetry, painting, and sculpture depicting their minds and sensibilities in their own different medium, hopes that in the end, the resulting veiled visual artpiece, could reflect like a mirror the poetic allegory in the creation process," wrote Tess Rayos del Sol in the exhibit's catalogue.
It wasn't easy. Distance and time made the collaboration difficult as all four have their individual endeavors and involvements. But they winged it as only determined artists would.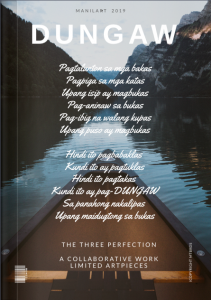 "From the initial conception of the ideas of the artists to transforming the mental image into a specific composition took longer than expected, particularly frustrating and in truth be described as a great creative struggle," the catalogue continues.
Three perfections, the creations were dubbed.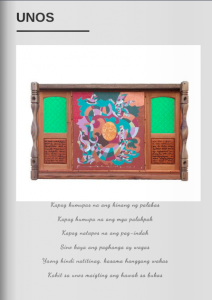 "Getting all the elements of the poem and interpreting it requires profound thought as works of arts are not just beautiful pictures or drawings without meaning. Really, the internal effort involved in placing that thought into an image is a result of a full-scale battle within the psyche."
Artists are said to be difficult to work with, now imagine gathering four to work together on one artpiece and then multiply this to 20. Only artists who believe in the project could have pushed completed these masterpieces.