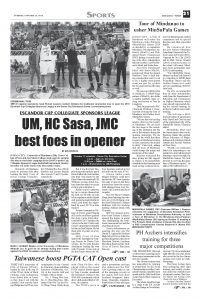 University of Mindanao, Holy Cross College of Sasa and Jose Maria Colleges took separate opening day wins to start their campaign in the 2019 Escandor Cup Collegiate Sponsors League basketball tournament, Sunday (October 13) at the Davao City Recreation Center.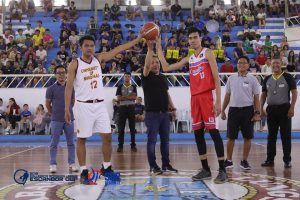 University of Mindanao made its presence felt after beating the Holy Cross of Davao College Crusaders, 82-78 behind the duo of Kyle Esteban and Jaymar Mejala who scored 15 and 14 points, respectively.
But it was the burly Mejala along with spritely guard Karlo Kidlat who took matters into their own hands for the Enzo Nitorreda-mentored UM Wildcats scoring clutch baskets down the stretch to secure its first win in Bracket A.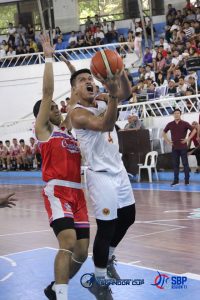 Kidlat scored a getaway lay-up to secure themselves the lead, 81-78 with 32 ticks left in regulation while Mejala only needed a single freethrow which had them the upperhand for good, 82-78 as time expired.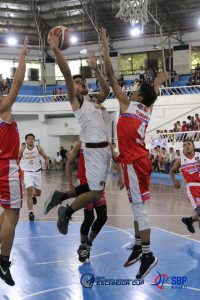 Former Assumption College of Davao guard Miguel de Loyola could have granted the Juan Carlo Salavador-coached HCDC Crusaders the victory in the last 15 ticks only to miss a triple that eventually led him to foul Mejala. He led them with 23 points on a losing effort.
Holy Cross of Sasa shared the limelight by beating Ateneo de Davao University, 84-78 with Ritchie Abellanosa leading the way with 22 points. It was only in the third canto where the HC Sasa Spartans sparked an 8-0 run and took the lead, 67-65.
Ateneo under coach Miguel Solitaria could have spoiled the HC Sasa Spartans win only to miss its last three possessions down the stretch with attempts from Axel Doromal, Alxex Lamson and Ayon Angeles.
The Jose Maria Colleges Kings joined opening day winners on a 102-60 thump over the Rizal Memorial Colleges Bulldogs with Ian Gaslang leading a balance attack with 10 points.
SBP-XI regional operations head Ronnel Leuterio opened the league in grand rites highlighting the traditional ceremonial toss and the awarding of muses.
Great performances on opening day also saw the Daniel R. Aguinaldo National High School Davao Blue Eagle Marching Band, the Davao Merchant Marine Academy Marching Band and the Holy Cross of Davao Maritime Dancers.
Games will resume on October 17 at the same venue where Agro Industrial Foundation College of the Philippines play Cor Jesu College of Digos City in the opener at 4 p.m. followed by Davao Merchant Marine Academy of College Southern Philippines against John Paul College of Davao at 5:30 p.m. while Brokenshire College of Davao battle University of Mindanao-Penaplata in the main tussle at 7 p.m.
October 17 schedule – Davao City Recreation Center
4 p.m. – Agro vs. Cor Jesu
5:30 p.m. – DMMA vs. John Paul
7 p.m. – Brokenshire vs. UM-Penaplata