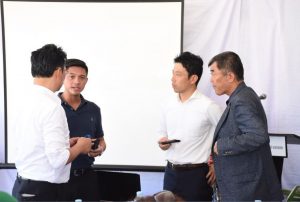 Homegrown economic hub operator Damosa Land Inc. (DLI) is expected to complete the setting up of its Anflo Industrial Estate Corp. (AIEC) within the next two years as more companies have expressed their desire to locate in the facility in Panabo City, Davao del Norte.
Based on the information from the company, among the major developments in the 63-hectare economic zone next year would include cold storage facilities, more warehouses and another commercial building.
"It's hard to woo investors when you sell only a plan. Showing concrete progress in the site is a big advantage for AIEC to close the deals with the investors. We would like to see a good mix of investors," Ricardo F. Lagdameo, DLI first vice president told TIMES in an electronic mail.
The company is fast-tracking the setting up of both the two of the three phases, which have a combined area of 14 hectares, as "there is enough interest in the market for industrial lots," said Lagdameo as he pointed out that the facility, the first in the Davao Region, is becoming an added backbone to the economy of the region.
"Industrial estates can boost Mindanao economy as these are job generating businesses which give a lot of livelihood in the locality, considering the requirement for diverse skill sets," he said.
Of the entire first phase only three hectares has yet to be sold as there are 14 companies that have started setting up their operations in the zone.
Among the companies that have been setting up their operations in the zone is Packwell, a Japanese company that is putting up a processing facility on a 1.6-hectare area. It signed the lease agreement in April in Japan.
The company said that there have been more inquiries coming from foreign business delegations, among them those from Taiwan, China and Japan.
Recently, Japanese investors, in a visit organized by the Office of the Consul General of Japan and the Japanese Chamber of Commerce-Mindanao, visited the industrial hub to look for the possibility of expanding their business in the Davao Region.
The visit followed the holding of the Japanese Business Seminar in the city as part of the commemoration of the 100th year of Japanese presence in this part of the country.
Japanese Consul General Yoshiaki Miwa during the business forum said the Japanese investors are into looking for business opportunities in the Davao Region, particularly in the manufacturing sector.
"We just have to create a strategy," said Miwa, adding that as an initial step, Japanese companies that are into manufacturing can look at the level of industry development and match it with their operations.
DLI said it is eyeing more manufacturing companies, particularly those whose operations are related to the agro-industrial sector.