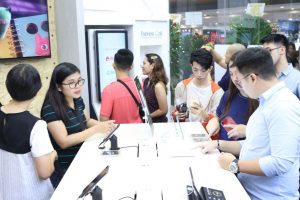 The opening of two PLDT-Smart converged stores in the city will allow the two companies to strengthen their footholds in the local market as they try to lure their customers to consider the respective offerings of each other.
At the opening of its first converged store in the city, the ninth in the country, at GMall of Davao on Friday, Alex O. Caeg, senior vice president at PLDT Inc. and its mobile subsidiary Smart Communications Inc., said that the stores are allowing the two companies "to push the postpaid businesses both for home and wireless."
"(With the stores) we want to elevate the kind of customer experience, especially for the Smart postpaid customers," Caeg said as bills for both companies can be paid at the stores.
"We also can do some cross-selling (at the stores)," he said.
On the part of Smart, he said there are those who are prepaid customers, as the estimated ratio between prepaid to postpaid is 9:1, who might one to become postpaid customers as the services offered by the latter is better.
However, the conversion of customer depends on his or her needs and wants. "There are people who don't like the inconvenience of re-loading their accounts (but are not yet postpaid subscribers)," he said, pointing out that the billed service has a higher quality than that of a prepaid, so the stores will allow them to look into whether it would be better for them to go into the billed service.
The postpaid service, he added, will allow the customers to access the Smart Signature, or the prioritized service, where in an area where there is a "high level of customer convergence," they become the priority whenever there is congestion in the connectivity.
On PLDT, the stores, with the other one in the city at SM Lanang Premier, the company will also try to convince those fixed line customers who have not been fiber connected customers to shift to the service, Caeg added.
Jason G. Lao, president of 8telcom Inc., the local partner in running the store, said the partnership will allow his company to help PLDT and its subsidiary "to help them grow the businesses more."
On the opening of more converged stores in Mindanao, Caeg said the companies will go into customer profiling to find out whether a place is ready for the service.
"There is always a plan to open (converged stores) in other key cities in Mindanao, but we are open to partnership as this one, and (whether) there is a growth area for postpaid service particularly for home (subscriptions)," he added.