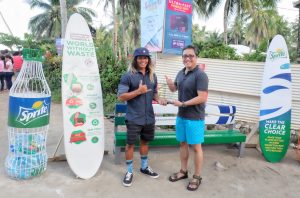 Twenty-three year old Wemar Bonono regrets not having been able to pursue college education when he was younger. Instead of carrying books to school, at age 10, he has opted to carry his beloved surfboard that he inherited from a foreign surfer and defy the challenging barrel's of Barangay Pacifico, San Isidro in Siargao Island.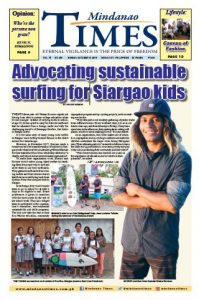 It is the same story of many young local surfers in Siargao since surfing became famous in the island around two decades ago.
However, in November 2017, Bonono made a turnaround and led a transformation of mindset to Siargao youth when he and his Australian girlfriend Hannah Bowyer established Sun Crew, which they dubbed as "a charity, surf school and an environmental organization".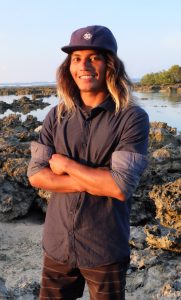 To make their organization work, Bonono and Bowyer would entice young island surfers by teaching them the proper way to surf and allow them to use their surfboards. They gathered surfboards from visiting surfers and from various donors that Bowyer would bring back from Sydney every time she goes back to Siargao.
In exchange, they would require them to go to school for at least 4 days to be eligible to surf. Board preference is given to members with the most points by the end of the school week. They also obliged them to participate in the organization's education, environmental sustainability and skills programs. The kids now take the lead in their Eco-Warrior education, community segregation program and up-cycling projects, such as creating eco-bricks.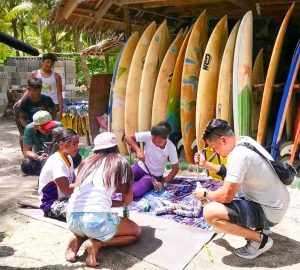 "They take part in our monthly gathering of plastic waste from different homes. Every weekend, they join us in our beach clean-ups, and from Monday to Friday, if they have spare time in the afternoon, they participate in cutting soft plastic, which we use in making pillows," Bonono shared.
As an organization, Sun Crew makes use of education, segregation and up-cycling to address and make the children understand the major crisis facing Philippine seas. Their ultimate goal is to "ensure the children to have the skills and opportunities to overcome poverty and play a key role in protecting their community and their island".
"This reward system also teaches our youth on the importance of education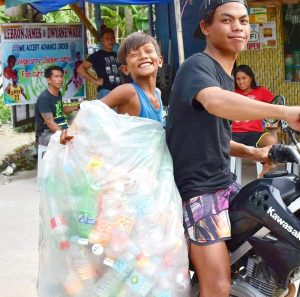 and to believe in their potential", he added.
So far, around 50 kids, age 8 to 16, have benefited from their programs. They are also planning to bring their organization and replicate their programs to Baler, Lanuza in Surigao del Sur, and other surfing communities in the country.
Their exemplary efforts have led the inclusion of Sun Crew in this year's Ten Accomplished Youth Organization Awards. Every year, TAYO recognizes and rewards youth organizations all over the country with programs and projects that help their communities. In TAYO, Sun Crew also won Coca-Cola Philippines' Coke Barkada Award for their initiatives on education and environmental conservation.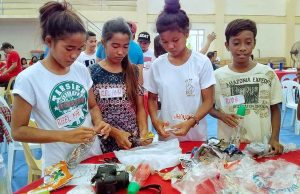 "Sun Crew best represents our values and is well-aligned with our vision of a World Without Waste. Their endeavors in creating a sustainable and plastic-free Siargao is not only inspiring but also uplifting both to the local communities and to the youth in general," said Coca-
Cola Philippines' corporate and regulatory affairs director Atty. Juan Lorenzo Tañada during the turnover of the Barkada Award to Sun Crew last October 5 in Siargao Island.
The soft drink company has announced last year its commitment to collect and recycle one bottle for each that the company sells globally by 2030. Moreover, Coca-Cola Philippines intends to help fund Sun Crew's plan in acquiring a recycling machine as part of their prize to further empower the fledgling organization.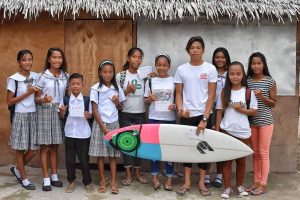 "I want to change the practice (of children dropping out of school) and bring education back to them. They need to think and plan for their future. Education is the only thing that they can hold and own for the rest of their lives. It is also something that can impart to others", Bonono said.