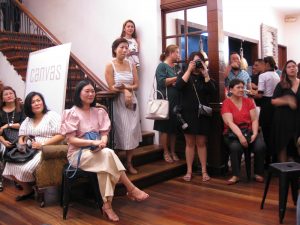 Last October 5 at 6:30 p.m. saw the charming ladies of Chimes Boutique namely mother Lily, Cindy, Camille and Casey Yap welcoming Davao's fashionistas at Bondi & Burke of Davao City. The Yap ladies were of course escorted by no less than the ever smiling Clark Yap. It was the launching of fashion brand Canvas' latest collection with Ms. Grand Universe 2019 Leah May Luna-Panisales as emcee. Naturally, Chimes Manager Renren vda. de Villena was on her twinkle toes ushering the perfumed guests to their seats. No, there were no mannequins but statuesque Glam models of Jon Nunez wearing the latest Canvas collection who stood immobile like statues in designated areas for the guests to ogle at.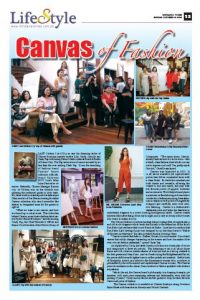 "What we wear is our canvas, and how we dress it up is out art work. This is the idea behind Canvas, an exclusive fashion label carried by the Chimes Boutique," said the smiling Cindy Yap, the Chief Executive Officer and Senior Vice President of the Felcris Group of Companies. "The name alone, Canvas, already hints at how it is to be worn—like a blank, clean fashion sheet which one can use to express one's self. Yes, pretty much like Art," Camille explained.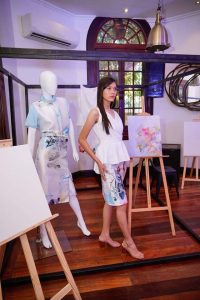 Canvas was launched in 2015. It is all about wearable yet sophisticated pieces that follow minimalist lines with a clean finish. Its wardrobe essentials are both classic and versatile, allowing the wearer to mix and match, and play with her favorite pieces of apparel, footwear and accessories. The lifestyle brand places a premium on fine tailoring and innovative construction techniques paying keen attention to details as each piece is thoughtfully designed and carefully sewn with creative detailing. Canvas is a fashionista's statement piece and helps her standout in understated elegance in a crowd donning homogenous styles. Canvas creates timeless silhouettes that go from day to night; and is only as dressy as the woman who wears it creates it to be.
The Canvas fashion collection has that distinct vintage feel of sophistication and old world elegance which lends itself nicely to the refined air of the lavish Don Pedro Lat residence that is now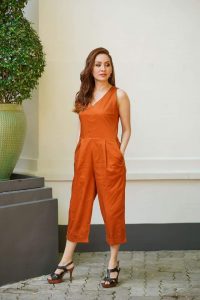 Bondi & Burke. I just have to mention that Don Pedro Lat's heritage house was designed by no less than Davao's "Father of Modern Architecture," the late Architect Ramon Domingo Basa.
"Canvas is never fast fashion. Rather, like art, it is a movement. It is a blank canvas that subtly changes depending on the wearer and how she makes it her very own art fashion statement," opined Casey Yap.
As explained by Cindy, the latest Canvas collection is a visual play of colors and categorized in three art periods. The Renaissance set is all about linear forms and rich colors in intense shades of wine and rust as a strong contrast to the lush greens and deep blues. And as if embodying the Enlightenment Period, the pieces shift towards lighter hues in softer pastels and neutrals. Subtle hints of femininity, indeed, as a tribute to the Renaissance woman who, somehow, is personified by the well-rounded and sophisticated Canvas woman. The Canvas piece de resistance is the classic form rendered in fabrics splashed with abstract art patterns.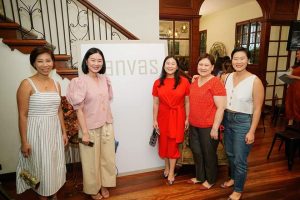 "Much like art, the Canvas brand's philosophy is in keeping it simple, yet timeless, with each piece remaining relevant and fashionable, even with the passing of years," Cindy said as she invited the guests to shop for their favorite Canvas art piece of fashion.
The Canvas collection is available at Chimes Boutique along Governor Sales Street with branches in Abreeza and Felcris Centrale.