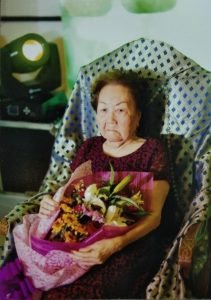 A very appropriate theme for someone who is living her diamond years happily with her children, grandchildren and relatives, celebrating her 90th year is Erlinda "Nene" Medialdea-Bendigo. She was honored by her children at a dinner held at Western Empire Restaurant on September 15, 2019.
Invitation sent out to friends had the theme "Denim and Diamonds" so family members saw to it they wore denims for the occasion.
Ramona Medialdea-Scott relates "The one dancing with Manang Nene is her son Renato "Boboy" Bendigo", referring to the photo taken at the party. Her favorite pastime was ballroom dancing but was unable to continue dancing after a serious illness. Her daughter Rosalie Bendigo "Bebot" Te Eng Fo was around, greeting guests and relatives who came to wish their Mom a Happy Birthday. Louella Barro Bendigo is Boboy Bendigo's wife.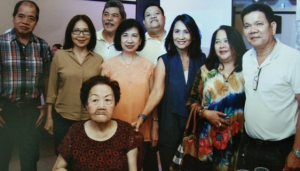 Among those who attended the party were Perla Palma Gil, Meding Silva, Zenaida "Baby" Morales, Meding Bermejo, Salvador "Bing Bong" Medialdea, Ramona Medialdea-Scott and her children Bobby, Stereo and Joboy and grandchildren.
Manang Nene has three children, Renato, Rosalie and the eldest, Leila Bendigo Cua who passed away years ago.
Her siblings are the late Justice Leo Medialdea, Tony Medialdea and Teodora "Doring" Medialdea dela Cruz. Manang Nene was born on Sept. 15, 1928.