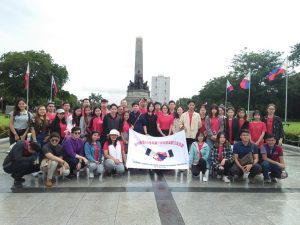 The 2nd Philippine- China Youth Exchange program tour from Sept. 15 to 28, this year, fostered good memories to the delegates from both countries.
Zhang Zhenhua, 19, studying Business at QuanZhou Vocation Technical University from Ning De of the Fujian province, said he was grateful to be part of the exchange program.
"Philippines and China established diplomatic relations on June 9, 1975. The Philippines is a dynamic country and the Filipinos are really hospitable. When I walk down the street, they just greeted me on their own initiative," he said.
"Many students speak Chinese at the same time you have introduced your country to us. I'm still very impressed," he added.
He said this is not only a students exchange activity between schools but also building city to city relation.
"It also marks the culture exchange between China and Philippines, " he added.
Students from China toured the cities of Manila, Davao and Cebu for a week to experience and to know more about the Philippines and its people, as well as to learn China and Philippines relations, similarities and history.
They then flew to China for another week of learning and first-hand experience of Chinese culture and practices.
The Filipino and Chinese delegates had a lot of time to bond; from the bus, train and plane rides; to eating breakfast, lunch and dinner together, endless walks, awe-inspiring climb to the mountain top and the fascinating bamboo rafting on a nine-curve stream during the 15-day trip.
The exchange program between the two countries concluded in the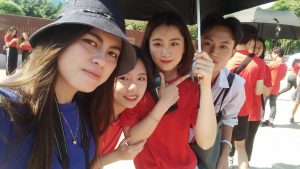 City of Fuzhou in Fujian, signifying the bilateral relations, not only in economy and trade, but also to seal people-to-people exchanges.
Leonilo Gonzales III, a 2nd year college student taking Bachelor of Science in Civil Engineering at the University of Mindanao, said the very first thing he learned during the exchange tour is the time management because in Chinese they are always conscious of the time.
"In our tour, no time was wasted and we learned to be open minded to the new experiences," Gonzales said.
Also he said it was important that they be careful with their words as they could offend people if they are not sensitive to the culture of the place.
Also, Tracy Franz Gabriel Velasco, a fourth year college of University of Southeastern Philippines (USEP), said this experience was unforgettable.
"The best thing about travelling is learning the culture of the place and to have the chance to experience it," Velasco said.
"With this, it has given me the opportunity to deeply immerse with Chinese heritage especially since we have been accompanied by our Chinese péngyǒu during the span of this trip," he added.
He said one example of his cultural immersion in China is the way the Chinese eat their food.
"Almost every meal, they serve us seafood especially shrimp and I think that says a lot about how the Chinese love seafood. In my hometown in the Philippines, we only have shrimps on special occasions because it is very expensive for daily consumption," Velasco said.
As a Geology student, he said "this is also a great opportunity for me to widen my horizon in my field of studies."
" Exploring a new area for geologists is a very exciting experience as this would mean a chance to learn more about an area in a geological perspective. I think the best scenic spot for me is Wuyi Mountain where we trekked to Tianyou Peak for 2 hours and we were treated with a very pleasing view along the way," he added.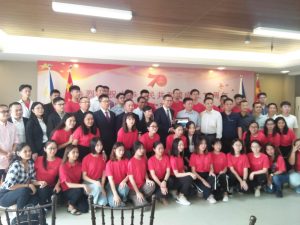 "With all of my experiences in this trip, my biggest takeaway would be the friendship that I have made with my Chinese péngyǒu. It pains me to have parted with my newly found friends Mark, Zoe, Tina, Kevin, and more, but I know this is just the beginning of a new friendship that will last a lifetime," he further said.
Meanwhile, during their Davao tour last Sept 20, the delegates visited Davao City Sangguniang Panglungsod. Councilor Augustu Javer Campos thanked the organizers for "choosing Davao city to be one  of your partners, for trusting Davao City."
"To the youth thank you for coming here and building relationship with the youth of Philippines. With this partnership, Filipino and Chinese youth build better relationship and friendship,"he added.
The first Philippines-China Youth Friendly Exchange Program was initiated by the Fujian Foreign Affairs Office in China and co-sponsored by the Chinese Embassy in the Philippines, Chinese Consulates General in Cebu and Davao and Friends of the Philippines Foundation.
The program encouraged the delegates to make it a starting point to work, learn and grow together to become bridges of a stronger bond between the two countries.
The Philippines and China vow to strengthen the relations between the two nations and enhance friendly relations in areas such as cultural education platforms.
Among the 60 delegates, there were 10 Philippine participants, including three students of the University of Mindanao (UM) – Gail Martie Maceda (Bachelor of Science in Tourism Management), Kevin Rostem Digal (Bachelor of Science in Entrepreneurship), and Leonilo Gonzalez III (Bachelor of Science in Civil Engineering).