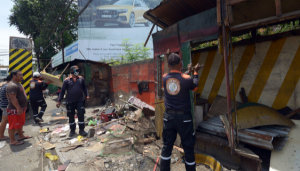 The continuing operation to clear the sidewalks of obstructions is now 56% complete.
"Our mandate is to summarily remove illegal structures, so meaning to say in the absence of the due process we can remove structures illegally piled along sidewalks," Paul Bermejo, Ancillary Service Unit (ASU) chief, said at a forum held yesterday.
He added that they are focusing on the Poblacion area then fan out toward the outlying areas of the city. Earlier yesterday, the ASU team cleared the stretch of Ponciano (Bangoy) Street.
According to Bermejo, most of the vendors pleaded with them to let them sell on sidewalks. He said some of the vendors, especially in Bankerohan Public Market and surrounding areas, were allowed to stay.
But the vendors were warned against extending their stalls past the gutter so they don't cause traffic congestion. He also said that the stalls should not obstruct the passageway for pedestrians.
Bermejo called out the vendors who illegally occupy sidewalks to voluntarily leave so they don't get ticketed. "Right now, we are just regulating them. Remind them to stand close next to the sidewalk, otherwise they are no longer allowed to sell there," he said.
Bermejo also said the ASU has two teams that are taking turns to monitor the vendors 24/7.