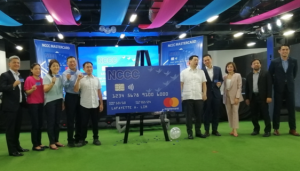 Homegrown retailer New City Commercial Center, in partnership with Metrobank Card Corp. (MCC), launched yesterday the first-ever co-branded credit card in Mindanao – the NCCC credit card.
"I remember in the late 90s we were thinking about having our own credit card. Finally, after 20 years, we will have our own credit card," said Lafayette A. Lim, NCCC Group of Companies chief executive officer in his message.
Lim thanked the team behind the retail group's credit card including the NCCC team, the Mastercard, and the Metrobank.
With the NCCC credit card, NCCC shoppers will enjoy more convenient payment options and financial flexibility as well as exclusive discounts and promos, the company said.
The credit card is not only limited to the NCCC affiliated stores. It may also be used in other partner merchant of Metrobank like bills payment, and online booking. For every P20 pesos worth of purchase, cardholders will be given one point, and points earned may be redeemed exclusively at any NCCC stores.
"This is new for us and I hope that to be successful not just for the company but also to the Kanegosyo, and our customers," said Lim.
Its partner, Metrobank, is optimistic that there is growth in the city in terms of credit card acquisition.
"From what we are seeing, there is a growth in Davao from the ones that are acquiring credit card. That speaks very well with the fact that Davao is growing very well," Francis Ramon Tioseco, head of credit card marketing at MCC.
"And that is why we partnered with NCCC because we feel like Davao will be a sector of growth not only in terms of retail, especially that the entire region as well continues to grow that is why, credit card continues to become a very important tool for consumer," he said.
According to Tioseco, the NCCC Mastercard credit card is the first co-branded in Mindanao.
"So it speaks highly of what is happening in Mindanao in the retail space and the NCCC is really pushing forward for this. Evident, even without numbers, is that it is really a growth area because credit card has become really an important type of payment," Tioseco added.