The standoff yesterday at the plantation of the Tagum Agricultural Development Co. Inc. (Tadeco) in Sto. Tomas and Braulio Dujali, both in Davao del Norte eventually fizzled out after a Regional Trial Court RTC) issued a Temporary Restraining Order and Secretary Emmanuel F. Piñol, chair of the Mindanao Development Authority (MinDA) intervened.
In a social media post, Mr. Piñol confirmed the issuance of the 72-hour court order and that even before the order, Davao del Norte Gov. Edwin I. Jubahib "already relented" to "settle problem amicably."
He added that Jubahib "agreed to diffuse the situation" based on the request of President Rodrigo R. Duterte and Sen. Christopher Lawrence Go.
The TRO was issued by RTC Branch 34 Judge Dax G. Xenos in Panabo City, lawyer Nicolas A. Banga, company legal counsel, told TIMES.
The Floirendo company sought the issuance of the TRO after Jubahib threatened to enter the plantation which, based on the claim of the company, will jeopardize its bio-security facilities and might result in catastrophic incident.
The plan to enter the plantation was based on the road clearing of Jubahib based on the order of the President.
The company, quoting Interior and Local Government Undersecretary Jonathan Malaya, said that the plan of the provincial government is illegal as the order of the President lapsed already in September and that road widening is not also included in the order.
It said Malaya made the comment after he was informed that Jubahib has been looking into removing the obstruction leading to the plantation of the company.
The company said among those that would be destroyed with the action are the tire dips for vehicles and footbaths for pedestrians, two bio-security facilities intended to block entry of diseases, including the dreaded Fusarium Wilt, a soil-borne disease more popularly known for its other name, Panama, as it started in that country.
Banga earlier warned that the destroying the facilities will not only affect Tadeco farms but also neighboring farms as no solution has been found to stop the disease, but only to abandon the farm as well as plant variants that are resistant.
"If successful, the effort of Gov. Jubahib can spell the collapse of our country's banana industry," warned Banga.
The action of Jubahib was not for the first time as the company also faced it last year when he, then the chief of staff of Rep. Pantaleon D. Alvarez, at that time the speaker, also tried to enter the same area.
Alvarez and former representative Antonio R. Floirendo Jr., namesake of the company founder, the late Don Antonio O. Floirendo, have been at odds that resulted in the filing of cases against each other.
Alvarez even questioned the lease agreement between the company and the Bureau of Corrections over the 5,300-hectare plantation.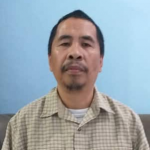 Managing Editor at Mindanao Times