Davao City – Three exciting matches will open the inaugural season of the Davao Collegiate Sponsors League (DCSL) set on October 13, Sunday at the Davao City Recreation Center (Almendras gym).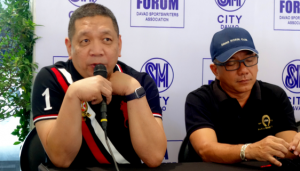 "We will be having three games after the opening ceremonies at 1 p.m.," said SBP-XI regional operations head Ronnel Leuterio on Thursday's Davao Sportswriters Association (DSA) Forum at the SM City Davao Annex.
University of Mindanao will play Holy Cross of Davao College at 1:30 p.m. followed by Ateneo de Davao University next to Holy Cross of Sasa then Jose Maria Colleges against Rizal Memorial Colleges in the main tussle.
"We will still have a meeting on the proposed home and away format for this year's season," Leuterio said adding that this league will be our own version of the Visayas' CESAFI and Manila's NCAA and UAAP.
Aside from it, the champion team this season will represent Davao City in the Philippine Collegiate Champions League (PCCL) Regional Finals.
"The PCCL regional finals will be held sometime January next year. If things pushes through, Davao City will host the Vis-Min eliminations and the national finals," Leuterio added.
Some 16 schools are seeing action in the tournament which follows the single round bracket elimination with the top two teams in each bracket earning a slot in the crossover semifinal round.