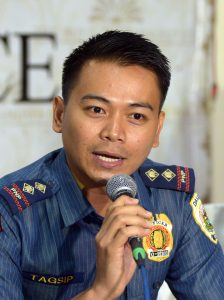 The Davao City Police Office (DCPO) hasn't monitored any "ninja cops" in the city as the senate hearings on police involvement in drugs rage on.
A Ninja cop refers to a police officer involved in the recycling of confiscated illegal drugs.
"We know that the Davao City Police Office is strict in the implementation of the do's and dont's," DCPO spokesperson Capt. Nolan Tagsip said yesterday during the AFP-PNP press briefing held at The Royal Mandaya Hotel.
Recently, Brig. Gen. Marcelo Morales, the police regional director, said they are monitoring three police officers and seven non-commissioned officers who may be involved in drugs.
While Tagsip said they haven't monitored anybody from their personnel, they could not discount the possibility that the region's intelligence network has identified a police officer assigned in Davao City.
"But we are intensifying our internal cleansing, monitoring, and guarding of our police personnel," he said.
"Hopefully, we will not arrest somebody again like Staff Sergeant Elcelito Colita," He added.
Also, Antonio Rivera, the director of Philippine Drug Enforcement Agency XI, yesterday said they are monitoring two police personnel here in the region with alleged involvement in illegal drugs.
Last week, a police personnel and his companion, who is a brother of a police officer assigned in the Davao City Police Office (DCPO), were arrested during a buy-bust operation in Obrero.
They were identified as S/Sgt. Elcelito Colita, desk officer of Marilog Police Station, and Glenn Art Laurel Muring.
Muring is the brother of Maj. Peter John Muring, chief of the administrative branch of the DCPO. Morales said Muring has been under surveillance since his apprehension for illegal drugs three years ago.
The suspect was temporarily released under a plea-bargaining agreement in court. Morales said the Talomo Police Station drug enforcement team coordinated with the PDEA to launch a buy-bust operation against the two suspects.