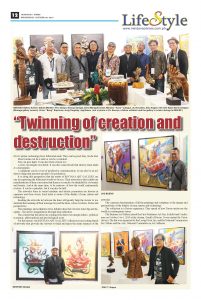 Man, nature, technology have bifurcated ends. They can be good, they can be bad.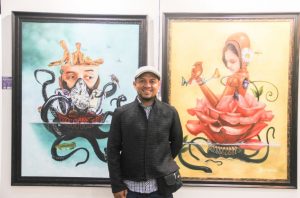 Man/woman can be a saint or can be a criminal.
Fire can give light. It can also burn a forest too.
A river can irrigate rice fields. It can also cause floods that destroy farm lands & communities.
A cellphone can be a tool of productive communication. It can also be an addictive thing that prevents people to be productive.
It is along this perspective that the artists of BINTANA ART GALLERY are one in expressing the bifurcated world we live in. Their artworks in this exhibit are manifestations of their conviction that the
re is so much to be thankful for: its beauty and bounty. And at the same time, to be cautious of how the world continuously evolves. It can be a paradise, but it can also be hell.
The artworks done in varied medium and artistic persuasion are lessons in openness and clear vision. Each artist is aware of the duality of man, nature and technology.
Reading the artworks in between the lines will greatly help the viewer to understand the meaning of their message beyond the lines, colors, textures, forms and perspectives.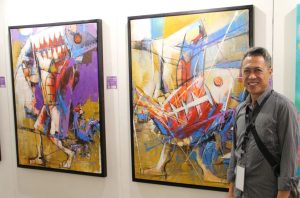 The paintings and sculptures have hidden ideas that viewers must dig and decipher – the artist's imaginations through deep reflection.
The context that the artists are coming from their own unique milieu : political, economic, philosophical and psychological roots.
For this reason , the BINTANA ART GALLERY collection is an exciting bunch of artworks that provoke the viewers to think and enjoy the many nuances of the artworks.
The common denomination of all the
paintings and sculptures is the unique and personal take of the duality of man, nature and technology.
The collection is a Davao experience. They speak of how Davao artists see the world in contemporary times.
The Bintana Art Gallery joined the First Mindanao Art Fair, Exhibit and Conference on October 5 to 6, 2019 at the Atrium, Gmall of Davao. It was curated by Victor Secuya.
The fair was organized by the Lawig Diwa, Inc, and the National Commission for Culture and the Arts, National Committee on Art Galleries.