Davao – Ramil Bisera and American Lexus Keoninh bucked the tough surface as they carved out a pair of 68s behind scorching finishes at the front to wrest a one-stroke lead over Ira Alido at the start of the ICTSI South Pacific Classic at South Pacific Golf & Leisures Estates here yesterday.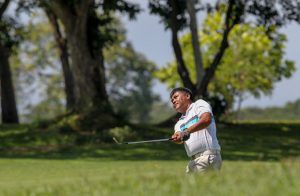 Bisera, one of the few unheralded players from talent-rich Davao who made just three cuts in seven tournaments in this year's Philippine Golf Tour, put on his best card in years – a bogey-free 34-34 marked by two birdies in the last three holes on each nine that stood as one of the course records, this being the first pro tournament at the newly-built 7018-yard championship layout developed by Sta. Lucia Development, Inc.
"The greens are very tricky," said Bisera, who relied on sister-caddy Jacqueline's help on the unreceptive surface that bedeviled the games of majority of the fancied names in the 72-hole championship organized by Pilipinas Golf Tournaments, Inc.
"Everything actually clicked – off the tee, iron play and putting. I just hope to sustain my game and finally score a victory," said the 45-year-old Bisera, backed by long-time patron Hermie Martin.
Keoninh, whose form took a dip with missed cut stints at the PGT Pueblo de Oro and Del Monte legs and a 28th place finish in Apo the last four weeks, birdied the last three holes at the back to share first day honors in the P3 million event capping the milestone 10th season of the circuit sponsored by ICTSI.
"I had no problem with my game but the greens really puzzled me," said Keoninh, who sizzled late with solid iron play that set up birdies inside 10 feet in the last three holes.
The 28-year-old shotmaker, who grew up in Nashville, Tennessee, nearly eagled the par-5 No. 2 off a superb 7-iron shot that rolled but stopped inches off the cup. He earlier gunned down three birdies, including one on No. 4 from 15 feet, that negated his missed green bogeys on Nos. 6 and 13 in a big start that could hint at a coming of an explosive week for the amiable shotmaker seeking a breakthrough in the circuit.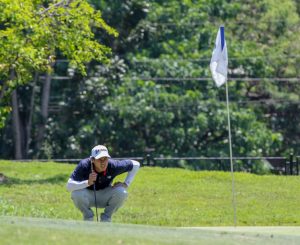 Alido, who has contended in a number of PGT tournaments but just couldn't pull it off in the end, churned out another impressive start, a 69 that earlier stood as the best until Bisera and Keoninh charged home with those fiery finishes on a course that held its ground against the pros' assault.
"The greens are misleading. You have to be very patient because you'll find yourself in trouble if you don't," said Alido.
Dino Villanueva and Michael Bibat carded identical 70s for joint fourth while 12 players shot 71s, including Cebu leg winner Guido Van der Valk of The Netherlands, Rupert Zaragoza, Fidel Concepcion of Australia, Richard Sinfuego, Fil-German Keanu Jahns, Anthony Fernando, Jay-R Salahog, Paul Echavez, pro-am winner Ferdie Aunzo, Rufino Bayron, Del Monte leg titlist Jhonnel Ababa, and reigning Philippine Open champion Clyde Mondilla.
Tony Lascuña, whose victories in PGT Asia leg in Taiwan and at Apo, made him the marked man this week, blew a one-under card at the turn as he bogeyed No. 16 to settle for a 72, four shots off the joint leaders.
Other even par scorers were Nilo Salahog, Zanieboy Gialon and Enrico Gallardo.
Jobim Carlos bounced back strong from a bogey start with an eagle on No. 2 and a birdie on the fifth. But the reigning PGT Order of Merit titlist lost his rhythm and touch at the back, bogeying five of the first seven holes and needing to birdie the 18th to save a 74, the same output put in by Jay Bayron and Fil-Am Sean Talmadge.
Korean-American Micah Shin, winner of The Country Club Invitational last year and holder of a couple of big pro titles, and American Tarik Can, who ruled the Aboitiz Invitaitonal of the PGT Asia at Wack Wack last month, fumbled with a 76 and 79, respectively, and in danger of missing the 40-plus ties cut in the event backed by Custom Clubmakers, Meralco, Champion, Summit Mineral Water, K&G Golf Apparel, BDO, Sharp, KZG, PLDT and M.Y. Shokai Technology.