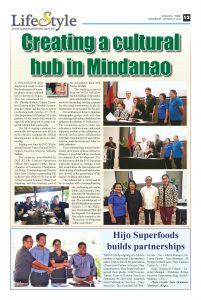 A ten-million peso fund is now ready to start the development of a master plan to create a cultural hub in the Davao Region. This was announced by Ms. Marichu Tellano, Deputy Executive Director of the National Commission for Culture and the Arts in a press conference held October 07, 2019. The Department of Tourism XI is the grantee of the funds following the approval of its proposal to create a regional cultural hub master plan.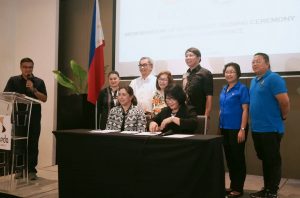 The MOA signing ceremony between the two agencies was held in Seda Abreeza, marking the official announcement of this project's partnership.
Signing was done by DOT XI Regional Director Tanya Tan and NCCA Deputy Exective Director Marichu Tellano.
The ceremony was attended by DOT XI City Tourism Operations Officer Judy Lagura-Colaljo, Davao Chamber of
Commerce Chairperson Art Milan, Assistant Regional Director Elsie Mae Solidum representing RD Anthony Sales of DOST-XI, Davao del Norte Provincial Tourism Officer Noel Daquioag, and Sam Sombiro, part of the consultancy team with Nestor Horfilla.
The funding received from the NCCA will allow for the drafting of the master plan which will be a prerequisite to succeeding funding requests for the actual construction of the infrastructure, as envisioned for the hub.
Davao Region is home to eighteen ethnographic groups, each with their own heritage and cultural traditions that influence the identity of Dabawenyos. The recognition given to their significance is both economic and social aspects is evident in the celebration of festivals and in active collaboration with their communities for agriculture, tourism, manufacturing and other related industries.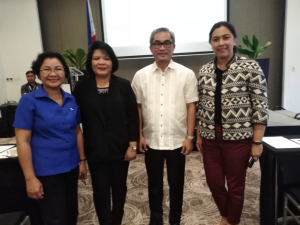 Even contemporary arts and architecture show traces of these cultural influences. a proof that culture is indeed, not separate from development. It is for this reason that the DOT has given particular interest in creating a hub that would allow the convergence and skills-sharing of traditional and modern arts, as well as the preservation of the region's heritage and culture.
The cultural hub is envisioned to be a complex with a training/learning site, performing arts center, library and museum, complemented by Mindanao-inspired design and landscaping. The establishment of the hub will likewise answer Chapter 7 of the Philippine Development Plan and the Regional Development Plan which commits to the "Promotion of Philippine Culture and Values".