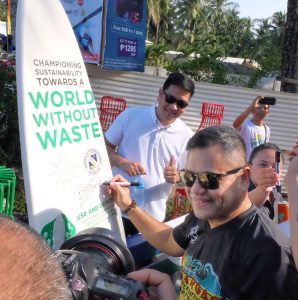 Sure, the Philippines has the best beaches in the planet, however, the current state of these coastal tourism gems have declined due to thoughtless disposal of trash and irresponsible mass tourism.
Heeding the call to make tourism more environmentally sustainable, Coca-Cola Philippines, through its World Without Waste campaign, has worked with several local governments since the start of the year. Last Saturday, October 5, the world's leading softdrink company launched its program in Siargao Island.
"It is big day for us as we start a number of sustainability and environmental projects with the provincial government of Surigao del Norte particularly here in Siargao," said Coca-Cola Philippines' corporate and regulatory affairs director Atty. Juan Lorenzo Tañada during the opening of the 25th Siargao International Surfing Cup, where the company is one of the main sponsors.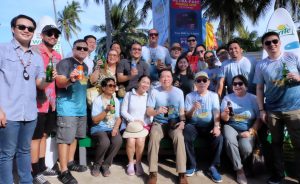 Coca-Cola turned over 24 colorful collection bins to the LGU, set up in various sites along Cloud 9, for use in gathering used PET bottles as well as nine benches in the surfing viewing areas. They also installed six sets of picnic sets to select sari-sari stores in Cloud 9.
The benches and picnic sets were made from recycled and repurposed PET bottles by Davao-based Winder Recycling Company.
Following Baler and Boracay, Coca-Cola will also deploy a surf rake, beach-cleaning equipment made by Connecticut, USA-based company H. Barber & Sons.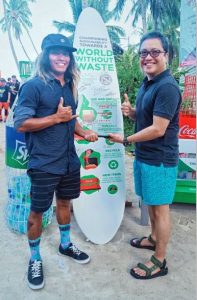 The company is also supporting Sun Crew, a non-profit organization that helps instill the importance of education and environmental awareness to the youth of Siargao through surfing and various endeavors.
"We acknowledge that there is a problem that face together. With our initiatives, we want to demonstrate our commitment and our resolve to ensure that our planet remains inhabitable and life sustaining," added Tañada.
Coca-Cola is set to open the largest PET – said to set the company back at PhP1 billion – bottle recycling facility in the country before the year ends.