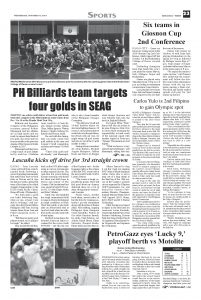 Filipino cue artists could deliver at least four gold meals when they compete in the 30th Southeast Asian Games from Dec. 3 to 10 at the Manila Hotel Tent City.
Billiards and Snookers Congress of the Philippines secretary general Robert Mananquil said his athletes are in high spirits and are ready to surpass their finish of two gold, one silver and two bronze medals in the previous staging of the Games in Kuala Lumpur in 2017.
Mananquil said they have a deep bench of pool talents led by world no. 3 Rubilen Amit, world No. 4 Carlo Biado, Dennis Orcollo, Johann Chua, Jeffrey Ignacio, Warren Kiamco, Chezka Centeno, Iris Rañola and Floriza Andal.
He said with this lineup, they can easily corner four gold medals in the men and women's 9-ball competition and men and women's 10-ball event.
"That's four gold medals already," said Mananquil, who is also a board member of the Philippine Olympic Committee.
"We still have 9-ball and 10-ball doubles where we also have fighting chances. Of course, I can't promise that we would also win the gold there, but if luck rolls our way, we might sweep all pool events and win six out of the 10 gold medals at stake."
Seeing action in snookers are Alvin Barbero, Michael Angelo Mengorio, Jeffrey Roda and Basil Al-Shajjar while Benjie Guevarra and Luis Saberdo will carry the torch in English Billiards.
Pool great Efren "Bata" Reyes will also see action as he joins Francisco Dela Cruz in carom while assuming the responsibility as head coach of the national squad with another legend in Francisco "Django" Bustamante as chef deputy.
"What we have is a very stacked and solid lineup," said Mananquil, adding that they will have a tough time in English Billiards and carom events.
"The Malaysians and the Singaporeans, being former British colonies, are expected to dominate English Billiards while carom is the pet event of the Vietnamese. Despite that, we will still go all out and take advantage of our homecourt edge."
Philippine Sports Commission (PSC) Chairman William Ramirez welcomed this development, saying: "It's difficult to predict outcomes, but with proper scouting, sports associations could somehow see their targets well."
"The PSC is also supportive of billiards as it is with all sports," Ramirez added.
Mananquil said the PSC has been very supportive to their preparation.
In fact, Amit and other pool stars are currently training overseas while the snooker team will fly to Turkey at the end of this month to see action in the World Snookers Championship.
"We want to thank PSC chairman Ramirez for his all-out support," Mananquil said.
"The PSC approved all our requests for foreign training and exposure that serve as good preparation for our athletes. In return, we would give everything that we can and win as many medals as possible."