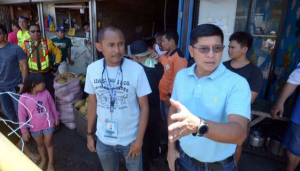 The City Transport and Traffic Management Office (CTTMO) is now at 46% completion of its clearing operations of the city's sidewalks, as it targets to clear all obstructions before the month ends.
"We will really strive that the 41 roads identified to have sidewalk obstruction be cleared within this month," CTTMO chief Dionisio Abude told reporters during the flag raising ceremony yesterday at the City Hall Grounds.
Abude said the City Engineer's Office and the City Planning and Development Office identified 366 city streets in the city. Forty- one of those were identified to have obstructions and 19 were totally cleared since their operation last month.
Some of the identified major obstructed roads, Abude said, include Roxas Avenue, Buhangin Road, Quirino Avenue, and Quimpo Boulevard.
Other than the city streets, the CTTMO also included national roads, including Davao-Bukidnon, Davao-Cotabato, and Davao-Agusan, from the clearing operations.
Yesterday, the CTTMO cleared Dacudao Street.
The CTTMO teamed up with the Ancillary Service Unit to clear up obstructions in the streets of the city including illegally parked vehicles, street vendors, and others.
According to him, non-compliant establishments will be issued with a notice of violation.
Repetitive violators will face revocation of business permits and may no longer be able to renew permits.
"We will surely implement the recommendations to the City Engineer's Office, City Legal Office and the Ancillary Service Unit to really implement the cancellation of permits to the Business Bureau. We will also recommend that their permits will no longer be renewed," Abude said.
Abude said they have yet to recommend any business permit for cancellation. He added that most establishments were compliant.