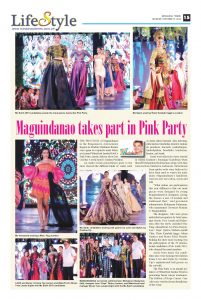 The province of Maguindanao in the Bangsamoro Autonomous Region in Muslim Mindanao flaunts once again its exquisite inaul fabric as it joined Waterfront Insular Hotel's Pink Party charity fashion show last October 3 at the hotel's Garden Pavillion.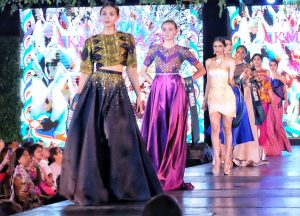 An audio-visual presentation prior to the show showed the different kinds of inual, such as dama dama binande, siku kalwang, sutla kaslon, binaludan, kinuwit, lantam na pinalinta, karanda, makadimpas, tinalubpukan, binaludto, lombayan, kasrun, and taruk.
Inaul was believed to have started in Sultan Kudarat's Barangay Katidtuan when Shariff Mohammed Kabunsuan along with him weavers from Sumbawa, Indonesia. Sutra thread from spider webs were believed to have been used to weave the early inaul.
Maguinadanao's handloom weavers now use cotton, rayon and silk.
"What makes our participation this year different is that our inaul pieces were designed by young Maguindanawon designers, giving the dresses a mix of modern and traditional flair," said provincial administrator Mohajeran Balayman, who represented Goveebor Mariam S. Mangudadatu.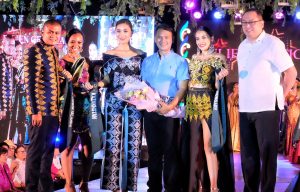 The designers, who were given individual recognition by hotel manager Bryan Yves Lasala and Balayman after the show, include Mac Taug, Akmad Kari, Joy Puro Abayon, Jose " Pepe" Quitco, Melissa Ajaddi Chin, Thato Kambali Inggo, Julien Gentica and Matet Edcil Pineda. Making the show more exciting was the participation of the 29 international candidates of Ms. Earth 2019, who donned the inaul numbers.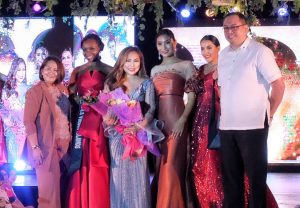 Aside from inaul, the candidates also wore homegrown fashion house Love and Styles by Cristina Yip's sophisticated ball gowns on the catwalk.
The Pink Party is an annual initiative of Waterfront Insular Hotel in promoting breast cancer awareness. The Ribbon of Hope Cancer Care Advocacy was the chosen beneficiary of the event.