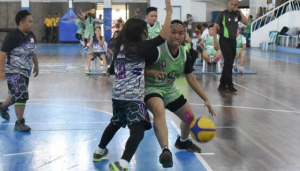 Davao City – City Mayors Office teams A and B will face City Health Office and City Social Services and Development Office respectively when the 2019 City Hall employees sports festival basketball women 3-on-3 resumes at 8 a.m. today at the Davao City Recreation Center in the semi-final round.
CMO-A demolished their opponents with 6-0 victory on the elimination rounds while CMO-B likewise showcased their supremacy in their division with 5 wins and no defeat.
CSSDO on the other hand ranks second in division A, being a casualty next to CMO-A along with CHO which dropped to CMO-B.
The battle between CSSDO and CMO-B is expected to be tough with both teams powered by former varsity players who are now working with the LGU of Davao City. Rodan Juniore Lim, CMO B, from the City Anti-drug and Abuse Counsel was a former varsity player of Adamson University in Manila. Supporting her in court are Mary Joy Matias and Renah Vidamo from the Sports and Development Division Office with Virginia Gonzales and AJ Moratin.
CSSDO on the other hand, also hopes for a finals ticket.
Venessa Intention, CSSDO Sports coordinator said they really lack time to practice unlike the other teams. CSSDO players are all in social services even on Saturday and Sunday to help the victims of calamities. Sofia Cesarda is a psychologist and Vanessa Algabre is a nurse. Both of them played in San Pedro college during their school days.
"We will just give our best," Intention said.
Semifinal winners will then proceed to the finals.
The champion will bag P20,000, 1st runner-up P15,000 and the second runner-up will receive P8,000.
CMO-A parades its cast having Carla Echavia, Sheryl Limpag, Shayne Puson Roxianne Boltiador and Karen delos Santos.